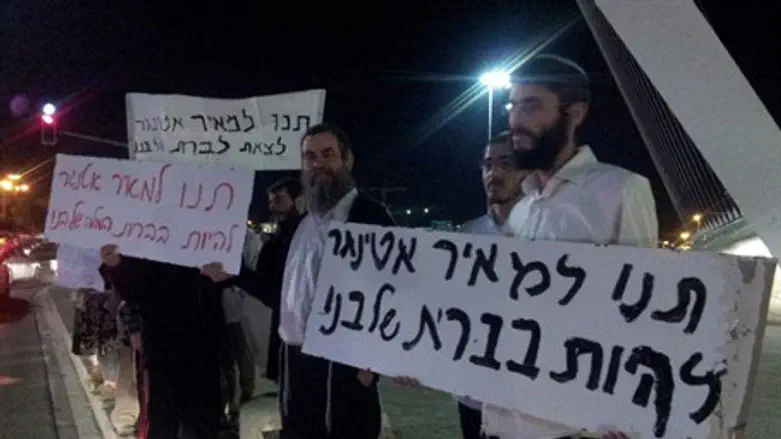 The protest in Jerusalem
The Ettinger family
A protest was held on Saturday night at Jerusalem's iconic Chords Bridge by around 30 family members of Meir Ettinger, who has been jailed on administrative detention for eight months without any trial or charges brought against him.
The protest called on the government to allow Ettinger to take part in his firstborn son's brit milah (circumcision), which is to be held on Monday.
His family members held signs at the entrance to the capital reading: "release Meir," "no administrative arrest for Jews," and "let Meir take part in his son's brit."
"We protested tonight in a demand that they let my brother Meir take part in the brit milah of his firstborn son - my brother has rights too," said Yehezkel Ettinger.
"My brother has been held for eight months in jail and isolation without any trial and only for his opinions, this arrest should be put to an end," emphasized Ettinger's brother.
On Sunday at 10 a.m. the Be'er Sheva district court is to discuss a request submitted last Thursday by Ettinger's lawyer, Sima Kochav of the Honenu legal aid organization, asking to let him out for the brit.
"תנו למאיר להשתתף בברית של בנו"
"He'll blow up the Temple Mount during the brit?"
Ettinger is being held in extreme conditions of isolation, and is forbidden from making phone calls except to some of his closest family members. As journalist Chaim Levinson of the leftist paper Haaretz wrote on Facebook, those conditions go against the law.
"Administrative detainees according to the law are supposed to be jailed in the best conditions that the Israel Prison Service (IPS) has to offer. The idea is that from the start this arrest procedure is warped, so they try to minimize the damage as much as possible," wrote Levinson.
"In two days there is a brit for the son of the administrative detainee Meir Ettinger," continued the journalist. "The IPS is refusing to release him even for several hours for the brit. I don't understand the way they're banging their heads against the wall. What could happen in the few hours of the brit? He will establish an underground movement to blow up the Temple Mount?"
"As it is (without the matter of the brit - ed.), in a well managed country he isn't supposed to even be in jail, so at least let him go to the brit."
Ettinger has been held since August 3 in solitary confinement, after Defense Minister Moshe Ya'alon (Likud) signed the administrative order over his alleged "extremism." After the initial order expired, Ya'alon signed a new one for an additional four months, which the courts approved in February.
Ettinger is the grandson of former MK Rabbi Meir Kahane, who was assassinated by an Arab terrorist in 1990, and who called to transfer Arab residents out of Israel while offering those who agreed to leave financial compensation.