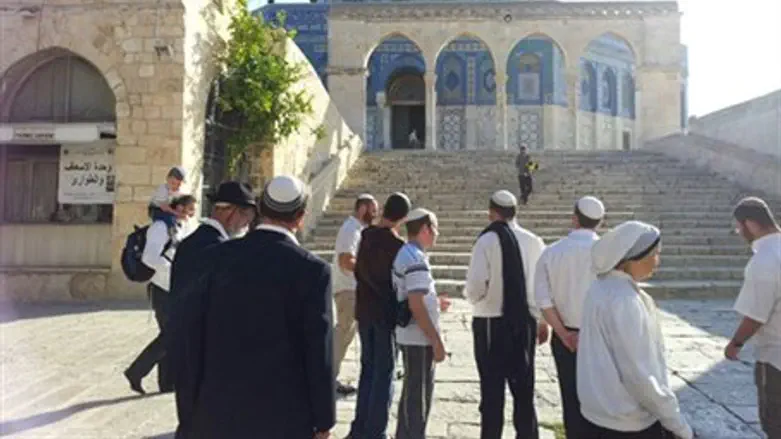 Jews on Temple Mount (file)
Arnon Segel
The Palestinian press reported on Friday in time for April 1 that during the previous month of March, over 1,114 "Jewish settlers" went and "breached" the Temple Mount - the holiest site in Judaism.
Of the 1,114 Jewish visitors, 846 were labeled "settlers" by the Palestinians, while 268 were "students and guides." The report added that the visitors were accompanied by Israeli police.
In February there were 893 Jewish visitors to the holy site according to the Arab report.
The "settlers" tried to hold "Talmudist prayers" at the Temple Mount, alleged the Palestinian press, saying that Al-Aqsa Mosque guards forced the Israeli police to remove the Jews before they completed their visit.
Dozens of Palestinian activists were arrested by the police in March and distanced from the Temple Mount according to the report, including women who "defend the mosque" by shouting at and abusing Jewish visitors.
Just this Wednesday an Arab activist was distanced by police after waving a flag of the Palestine Liberation Organization (PLO) terror group in order to provoke Jewish visitors. The Jews asked police to stop him as waving the flag is a breach of the law, and only after much time had passed did the officers comply in doing so.
Despite being liberated by Israel in the 1967 Six Day War the Temple Mount remains under the de facto control of the Jordanian Waqf which has banned Jewish prayer at the site, despite Israeli laws ensuring freedom of worship.
Currently Jordan is poised to place cameras on the Temple Mount which only it will have access to so as to "reveal Israeli violations," even though the Israeli government initially said it agreed to the step so as to monitor the actions of Arab Islamists who regularly riot at the site.