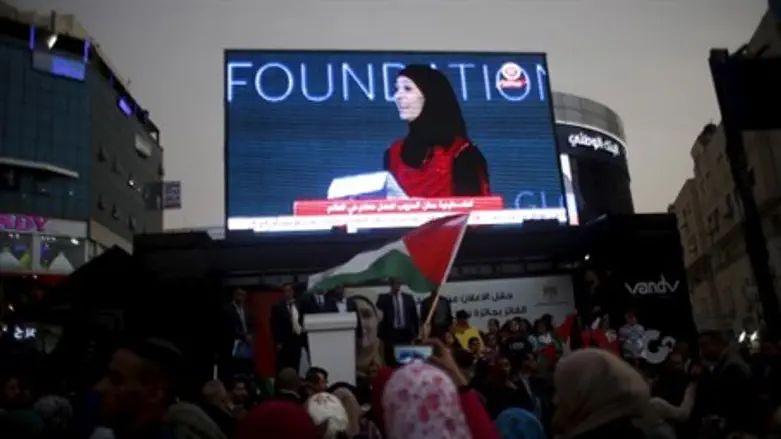 Crowd watches Hroub's winning ceremony in Ramallah
Reuters
The British-based foundation that awarded a Palestinian Authority schoolteacher a $1 million prize for teaching nonviolence will not change its decision, despite revelations that the woman's husband participated in a horrific terror attack that murdered at least six Jews, reports the Associated Press.
The Varkey Foundation awarded Hanan al-Hroub of El Bireh its Global Teacher Prize two weeks ago, in a ceremony in Dubai. In selecting her, it cited her slogan "No to Violence" and her efforts to protect Palestinian schoolchildren from the effects of living in a conflict zone. The ceremony was addressed by Pope Francis via video link.
It has since been revealed that her husband, Omar, served ten years in Israeli prison after being convicted as an accomplice in the 1980 Beit Hadassah bombing attack that murdered six Jews as they approached Beit Hadassah in Hevron. According to an Associated Press account at the time, Omar al-Hroub was a chemist who provided chemicals needed for making the bombs.
An article in the Qatari newspaper al-Araby al-Jadid drew attention to his sordid past by praising him as a "freedom fighter...who took part in one of the most daring guerrilla operations in the occupied territories."
In a statement, the Varkey Foundation said it does not look into the conduct of candidates' relatives and that the teacher was committed to nonviolence.
"As a point of principle, we only look at the qualities, achievements and conduct of the candidates themselves," it said.
"As Hanan al-Hroub has said herself, she has spent her whole life dealing with the effects of violence on children at close hand and every day she works toward a world where children, wherever they come from, can grow up peacefully," it added. "She has spent her entire career teaching the principle of nonviolence. She believes in nonviolence in all its forms and in all circumstances."
Prize makes 'a mockery of those murdered by her husband'
Meir Indor, chairman of the Almagor Terror Victims Association, told the AP that while he didn't blame the teacher for her husband's actions, she nonetheless should not have received the prize. It made "a mockery of those murdered by her husband," Indor said.
While both of the al-Hroubs declined comment, Qadura Faris, the director of the Palestinian Prisoners' Association, said that after serving out his sentence, Omar al-Hroub accepted the 1993 Oslo interim peace accord with Israel, served as a deputy Cabinet minister in the Palestinian Authority and supports a two-state solution with Israel.
He said al-Hroub is close to PA President Mahmoud Abbas and "believes in his peaceful approach."
Hanan Ashrawi, a senior Palestinian official, said it was unfair to hold the teacher responsible for her husband's actions. She said the Oslo agreement was meant to turn a "whole new page," and that leaders on both sides of the conflict have been involved in bloodshed.
Blogger Elder of Ziyon also noticed that as al-Hroub accepted her award, "Palestinians in the audience waved their country's flag and some chanted, fists pumping in the air, 'With our souls, our blood, we sacrifice for you Palestine.'"
"That is a war chant," noted the blogger, "used throughout the Middle East to incite violence... Palestinians' natural reaction to having someone win a prize for teaching non-violence was to shout war slogans."
The Jews murdered in the attack at Beit Hadassah intended to visit a group of Jewish women who were holed up in the building despite government demands that they leave it. Following the murderous attack, Jews were given permission to reside in Hevron.