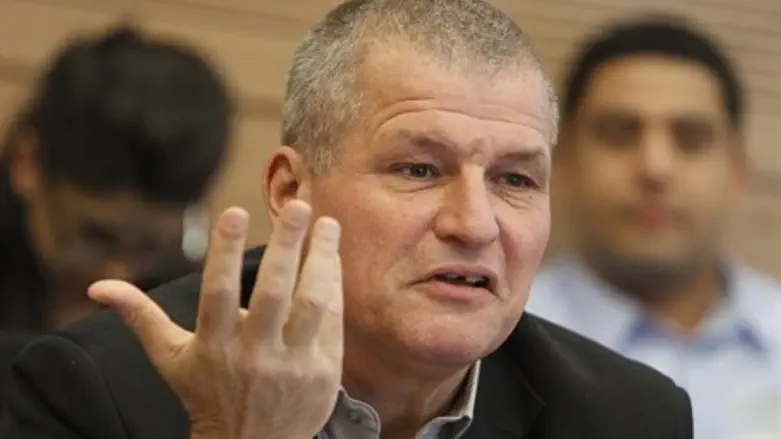 Mickey Rosenthal
Miriam Alster/Flash 90
MK Mickey Rosenthal of the Zionist Union party's Labor faction on Wednesday morning criticized Shas chairperson and Interior Minister Aryeh Deri, after it was revealed the night before that he is being investigated in a new corruption scandal.
"Deri shouldn't have returned to serve as a minister after he was convicted of corruption," said Rosenthal, referring to how Deri in January returned to the post of Interior Minister 22 years after he abused the same position by taking bribes.
Noting on how police have not yet launched a criminal investigation against Deri, he said, "an 'investigation' instead of a criminal investigation is discrimination before the law. The issue will be discussed in the Supreme Court due to my petition."
"The suspicions ascribed to Minister Deri have yet to be clarified, but already there are two matters that can be noted on," said Rosenthal. "First, Deri should not have returned to serve as a minister in Israel after he was convicted of corruption in the past."
"I said that even before the publication of the latest case: a corrupt man, who stuck his hand into the public pot and harmed the faith of citizens is not worthy of continuing to serve the public, ever. When I entered the Knesset I proposed a law asking to (legally) anchor that."
The MK continued on to his second conclusion, saying, "in this case, again a public representative is given preferential treatment by the Attorney General. Why was a 'preliminary investigation' launched against Minister Deri and not a criminal investigation?"
He warned that having separate standards by not launching a full criminal investigation "creates serious discrimination before the law and binds the hands of the police so that they cannot check the suspicions against the public representative with all the means available."
"On this topic of principle I submitted a petition to the Supreme Court. The Supreme Court judges accepted my position on the matter in principle, and ordered the Attorney General to establish clear criterion for the process. The struggle in the Supreme Court is continuing in these days."
According to a Haaretz report on Tuesday night, another senior politician aside from Deri is also being investigated in the corruption case.