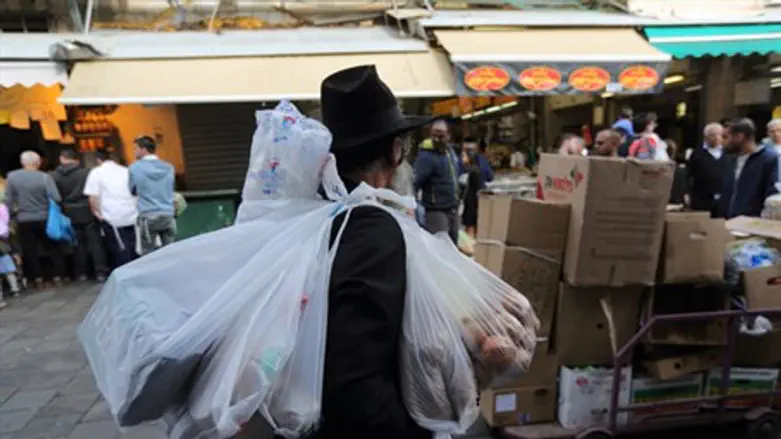 Mahane Yehuda market 2015
Yaakov Naumi/FLASH90
The Knesset passed early Tuesday morning a bill intended to reduce Israeli's use of disposable plastic bags.
The bill, which would ban the free distribution of plastic shopping bags by supermarkets and other stores, was first proposed in 2014 by then-Environmental Protection Minister Amir Peretz.
While the bill passed the initial vote in late October 2014, it failed to pass the last legislative hurdles before Peretz's HaTnuah faction left the governing coalition, leading to new elections in 2015.
The new bill, which proposes a mandatory 10 agurot (3 cents) charge for every shopping bag used, will go into effect in January of 2017. The previous bill proposed a 30 agurot (8 cents) charge per plastic bag.
Because Knesset votes do not require a quorum, the bill was passed by a minority of 44 MKs out of 120 total. There were no votes in opposition to the bill.
MK Uri Maklev (UTJ), a supporter of the bill, explained that the free and unlimited distribution of plastic bags by supermarkets had created an enormous environmental problem.
"The use of disposable plastic bags in Israel now stands at 274 bags per person per year, more than 2 billion bags in total per year."
"This is a bill that will affect all of us, and it's important not only because it will reduce littering, but also as a matter of teaching [good habits]".