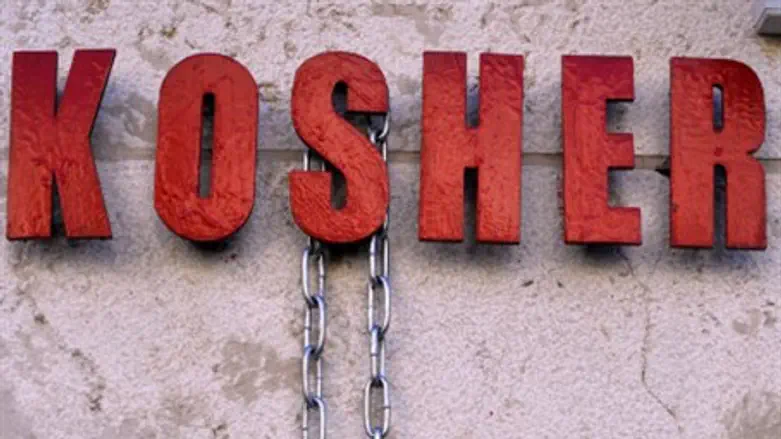 Kosher sign (illustration)
Flash 90
Sholom Rubashkin, 56, serving his seventh year of a controversial 27-year prison sentence in the United States for offenses connected to his running of a slaughterhouse in Iowa – the largest kosher meat-packing plant in the country – may now have reason to be encouraged.
A motion filed this week by his attorneys brings powerful evidence of government misconduct and abuse of power in the case – highlighted by government figures' denials under oath that are directly contradicted by many testimonies.
The motion – a Merits Brief – supports the "2255 petition" that was filed in 2014 calling for judicial relief and resentencing for Rubashkin. A "2255 petition" is one that allows a convict to re-open a conviction and submit additional evidence that could not be brought during a regular appeal. The petition, and now the Merits Brief, purport to show that the government misconduct caused Rubashkin's sentence to be even more severe, by two years, than the unusually harsh punishment requested by the prosecution.
Rubashkin, a Chabad hassid and father of ten, was the CEO of the Agriprocessors plant when it was cited in 2008 for issues involving animal treatment, hiring illegal workers, and others. In November 2009, Rubashkin was convicted of 86 charges of bank fraud and the like, mainly having to do with a $35 million bank loan that he could not pay back – due to what government elements called Rubashkin's "fraudulent business practices." The 27-year-sentence was then calculated based on the high loss caused to the bank.
However, the 2255 petition and the Merits Brief show that it was in fact the government's actions that purposely caused Agriprocessors' value to drop to a fraction of its value, thus preventing Rubashkin from selling his company at a fair price and then paying back most of the loan.
The main point brought out in the new evidence is that several would-be buyers of Agriprocessors were scared off by a government rule known as "No Rubashkins." That is, potential buyers were told that the government would not accept any involvement of a member of the Rubashkin family in the future operations of the plant. This rule, and the warnings associated with it, caused many of the potential buyers to drop out. In the end, the plant that was originally valued at nearly $70 million was sold for only a fraction thereof - $8 million.
Though both the prosecuting attorney and the government's star witness Paula Roby (liaison between the bankruptcy trustee, the Agriprocessors bidders, and the prosecutors) later denied in writing or under oath that a "No Rubashkins" policy existed, many would-be bidders have submitted affidavits that it existed very intensely. For instance, Roby testified that a $40 million offer from an investor named Soglowek fell through because the latter "realized the company was not worth the amount he had offered for it." In fact, however, "that is untrue," according to a sworn statement by Mr. Soglowek. He recounted that he was actually intimidated by the government's forfeiture threats and warnings of "very bad consequences" if he employed any Rubashkins.
Similarly, almost-bidder Sid Borenstein said "the position of the U.S. Attorney's Office had a chilling effect on our interest in purchasing the assets of Agriprocessors. We viewed Aaron Rubashkin [Sholom's father] as a 'key man' without whose involvement we would have no ability to manage this business. Accordingly we did not submit a bid."
At least eight other would-be purchasers made similar affidavits.
Another aspect of the injustice that many feel envelope this case is the fact that Justice Linda Reade did not remove herself from the trial – even though she had been heavily involved in planning the 2008 immigration raid at the Agriprocessors′ plant. It was Justice Reade herself who denied the motion for a new trial. Appeals were made to two higher courts, bolstered by amicus briefs filed by the ACLU, other similar organizations, and 86 former federal judges and other Justice Department officials. Both appeals were rejected.
Rubashkin thus appeared to have no recourse, and settled in for the 27-year-sentence many viewed as grossly unfair. The Merits Brief filed this week, however, has given him, his family, and his many supporters new hope.