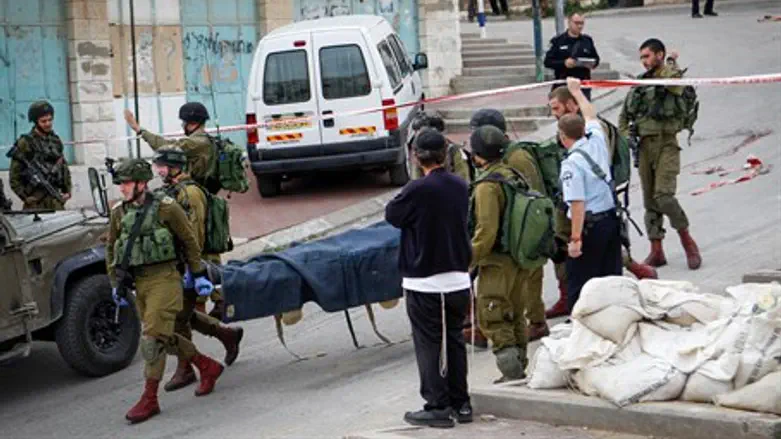 Scene of the attack
Wissam Hashlamon/Flash90
The family of an Israeli soldier now under investigation after shooting a wounded terrorist has filed a complaint with the police after receiving death threats.
Relatives of the soldier reported that a man with a discernibly Arabic accent called them on Saturday, making threatening statements and revealing private information about the family.
On Thursday, two terrorists attacked an IDF soldier station in Hevron, stabbing him in the upper torso. Both terrorists were neutralized.
As the wounded soldier was being carried away by paramedics, one of the neutralized terrorists began to move, leading several people at the scene to express concern. The terrorist was wearing a heavy sweater despite the hot weather, often a tell-tale sign of a concealed explosive device.
One soldier fired a single shot at the terrorist, killing him. The soldier involved in the incident claimed that he feared the terrorist was carrying a suicide bomb belt and was attempting to activate it.
The incident was recorded by an Arab activist in the B'Tselem organization. A video, filmed at a distance and lacking audio, was released by the group, showing the soldier firing at the terrorist.
A second video, however, filmed on the scene and including audio, lends some credence to the soldier's claim that he feared the terrorist was carrying an explosive device.
In the recording at least two people can be heard expressing concern that the wounded terrorist still presented a threat.
"The terrorist is still alive!" one man can be heard shouting. "Don't let him attack us!"
A second individual responded that the terrorist appeared to be armed with a bomb, warning others to steer clear.
"He looks like he has an explosive pack, watch out. Until the bomb squad comes, don't touch him."
The soldier was arrested over the incident and brought to a hearing on Friday.
On Saturday the soldier's family received a threatening phone call, despite the fact that the soldier's identity has not been cleared for publication.
The caller threatened the family saying "You [all] are going to be next".
Police reported that they are investigating the incident.