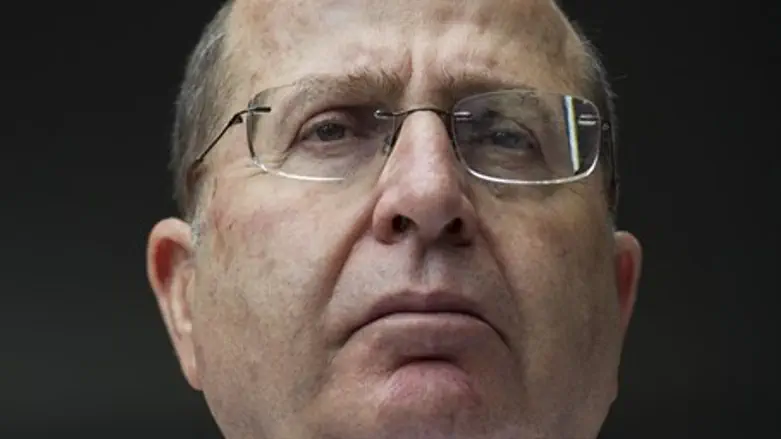 Moshe Ya'alon
Miriam Alster/Flash 90
Defense Minister Moshe Ya'alon (Likud) was quick to join the wave of condemnation against an IDF soldier, who was filmed Thursday shooting a neutralized Arab terrorist after minutes earlier he stabbed and tried to murder a soldier in Hevron.
The soldier has argued he shot the terrorist over fears he was about to detonate a suicide belt, in an argument confirmed by a witness on the scene.
For a reserve officer who spoke to Arutz Sheva, the incident brought him back to the year 1988, when the arch terrorist Abu Jihad was eliminated in a special IDF operation in Tunisia.
Towards the end of 1987, the elite Sayeret Matkal special forces were given the mission of assassinating Abu Jihad, who led the forces of the Palestine Liberation Organization (PLO) terrorist group and was responsible for countless lethal attacks.
Among the attacks Abu Jihad masterminded were the Tel Aviv Savoy Hotel attack in 1975 in which eight hostages and three IDF soldiers were murdered, and the 1978 "Coastal Road Massacre," one of the most lethal attacks in Israel's history in which 37 Israelis including 12 children were murdered.
The two attacks were conducted by the PLO's central Fatah faction, with the terrorists launching them after having infiltrated Israel's coastline via rubber boats.
At the time when Sayeret Matkal was tasked with taking out Abu Jihad, Lt. Col. Moshe Ya'alon commanded the unit, well before later becoming the Chief of Staff and currently serving as Defense Minister.
According to reports in foreign media, the combat soldier who first shot Abu Jihad was aged in his 20s, but the man who several minutes later stood in the Tunisian villa and confirmed the terrorist's death by shooting him again after he was already neutralized was none other than the commander of the operation, Ya'alon.
Seconds later, Ya'alon's voice was heard on the communications device telling the command post that "the director and his three workers are on their way to a world that is wholly good."
A reserve officer who spoke to Arutz Sheva on Friday regarding the incident on condition of anonymity said he wanted to send a message: "before everyone pounces on a combat soldier in a situation that isn't simple and hands him a verdict, they should show a bit of sensitivity."
"Ya'alon rushes to condemn like other politicians, but if they judge the soldier why not judge Boogie (Ya'alon)?," he posed.
The source added that "this story from Hevron places him (Ya'alon) as a Defense Minister who preaches morals publicly to a soldier who shot a terrorist in a very negative, hypocritical and artificial light."
"After all what is the difference between the two situations, other than the fact that yesterday an Arab filmed the incident and spread it?"