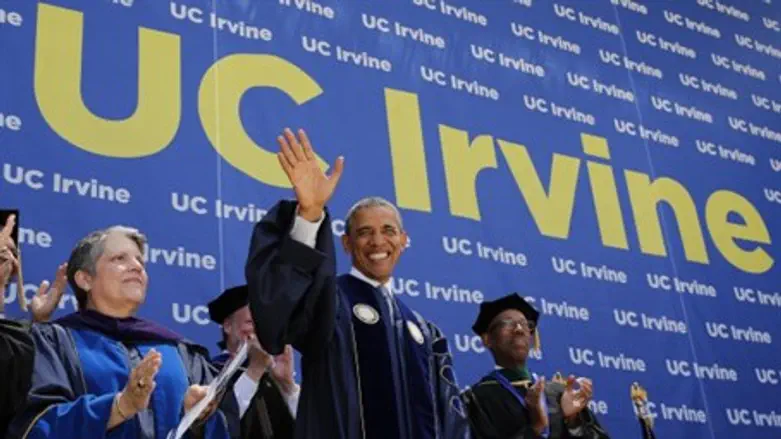 President Obama visits UC Irvine (file)
Reuters
The pro-Israel group StandWithUs issued its strong approval of the University of California (UC) Board of Regents vote on Wednesday, which approved a new version of its "Principles Against Intolerance" that, among other things, rejects "anti-Semitic forms" of anti-Zionism.
In the new UC document the governing board likewise addressed the various forms of bigotry such as the disruption of speakers, vandalism, and discrimination within the student government that has plagued Jewish students in recent years.
"Denying Israel's right to exist and opposing the rights of the Jewish people to self-determination in their homeland is racism, pure and simple," said StandWithUs CEO Roz Rothstein.
"I commend the Regents for hearing the voices of Jewish students and recognizing that anti-Semitism manifests itself in relation to Israel far too often within the UC system." 
Max Samarov, StandWithUs Director of Research & Campus Strategy, also commended the university, saying, "as someone who graduated from a UC school, I'm incredibly proud of UC students who stood up for their rights and their community."
Noting the challenges of limiting anti-Semitism, he said, "it is not always easy to balance protecting Jews and other minority groups from racism with upholding the 1st amendment and academic freedom, but I believe the Regents were able to do that successfully."
Illustrating the important statement made in the UC Regents decision, the document included the following: "opposition to Zionism often is expressed in ways that are not simply statements of disagreement over politics and policy, but also assertions of prejudice and intolerance toward Jewish people and culture." 
At the Public Comments part of the UC Regents' decision, Noa Raman, StandWithUs Pacific-Northwest-Northern California Campus Coordinator, gave a speech urging action against the rampant anti-Zionism stifling free speech on campus.
"I speak before you today as an American-Israeli Jew, a California resident, and the current Pacific Northwest Campus Coordinator at StandWithUs. Working with UC students on a day-to-day basis I know first hand the impact and pervasiveness of anti-Israelism and anti-Semitism within the UC system," said Raman.
"From swastikas being keyed on cars and spray-painted on Jewish fraternities, to a pro-divestment student senator calling for Israel's demise, to Jews being overtly discriminated against in student government because of their identity, to the most recent attempt to disrupt an Israeli diplomat speaking at UC Davis, it is clear that anti-Semitism and anti-Zionism are linked and have no place on UC campuses.
"I applaud the working group for crafting a strong policy which successfully balances the crucial fight against all forms of bigotry in the UC system with upholding free speech and academic freedom. I urge you to recognize the experiences of Jewish students and other targeted communities on campus, and fully endorse the Principles of Tolerance."