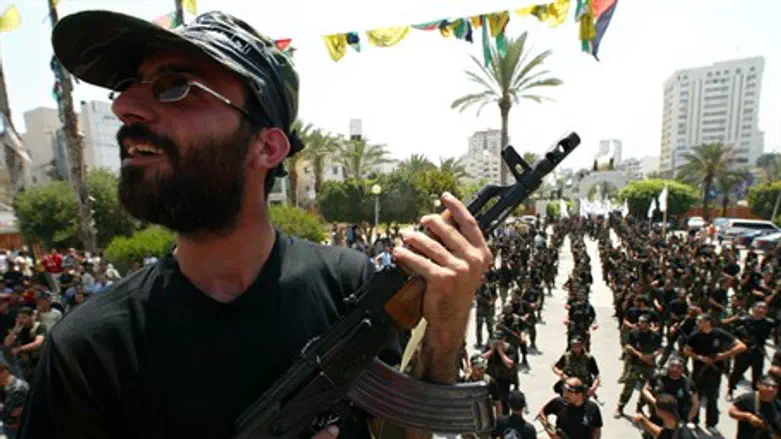 Fatah Al-Aqsa Martyrs' Brigades terrorists (illustration)
Flash 90
A new opinion poll among Arab residents of Judea, Samaria and Gaza indicates that the Palestinian Arabs want the current wave of terror attacks to shift from stabbings to an armed intifada, calling for more shootings and bombings.
Support for knife attacks dropped from 67% last December to 58% this month, and that figure is even lower (44%) when only looking in Judea and Samaria where most of the Arab terrorists have come from in the current onslaught.
According to the Palestinian Center for Policy and Survey Research (PSR), which conducted the research that was cited by Ma'an News Agency on Tuesday a day after being published, the drop in support for stabbings comes due to a perception that the brutal attacks lack efficiency.
Although there have been car ramming attacks and occasional shootings, most of the attacks have been stabbings in the current wave of Arab terror plaguing Israel since last September, which has claimed the lives of 34 victims and left hundreds wounded.
Only a little over a third of the Arabs think the current terror wave will lead to establishing a Palestinian state if it continues at the current level, with the majority rejecting that assessment.
Instead, PSR found that the Palestinian Arabs overwhelming want the terrorism to escalate from stabbings to shootings and bombings.
A majority at 52% calls for a return to an "armed intifada" terror war, positing that an organized terror campaign such as the one seen in the 2000-2005 Second Intifada or Oslo War is "more effective" than isolated attacks.
A larger majority at 65%, including 59% in Judea-Samaria and 75% in Gaza, think that if the terror wave were to develop into an armed intifada, it would be more effective in terms of establishing a state of "Palestine" than negotiations with Israel.
In fact only 29% view negotiations as the most effective way to get a state, and meanwhile a full 63% want to abandon the 1994 Oslo Accords that established the Palestinian Authority (PA). Likewise 64% want PA Chairman Mahmoud Abbas to resign.
PSR conducted the poll through 1,270 face-to-face interviews in 127 randomly selected locations in Judea, Samaria and Gaza, with a 3% margin of error.