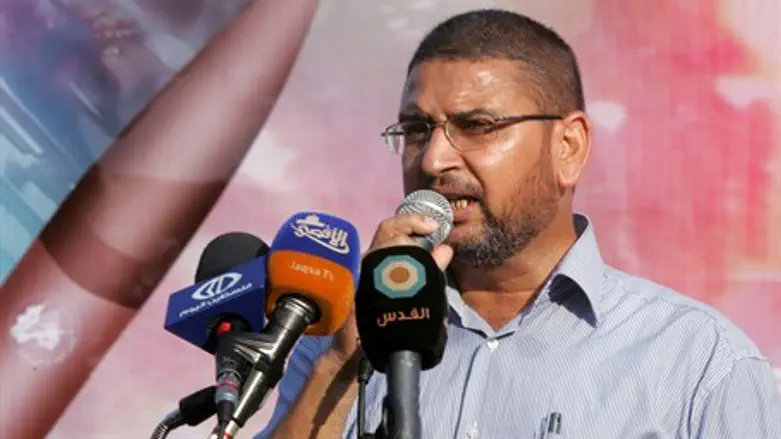 Sami Abu Zuhri
Abed Rahim Khatib/Flash 90
Hamas spokesman Sami Abu Zuhri on Tuesday denied any connection between Hamas and the Muslim Brotherhood in Egypt and, contrary to recent reports that reconciliation efforts with Egypt have failed, said that Hamas has mended fences with Cairo.
In an interview with the Al-Arabiya network, Abu Zuhri said that Hamas does not intervene in the internal affairs of neighboring countries, that it only operates for the benefit of the "Palestinian homeland" and that its decisions are made by Hamas's political bureau in the interests of the Palestinian people who are "fighting for the return of their occupied land and their legitimate rights."
Abu Zuhri further claimed that while Hamas is ideologically affiliated with the Muslim Brotherhood, politically and organizationally it works only for the Palestinian people and not for anyone else.
According to him, during the talks that were recently held in Egypt between a Hamas delegation and senior Egyptian officials, Hamas had undertaken to maintain security along the border with Egypt and refrain from interfering in its internal affairs.
"We opened a new chapter with Egypt and Gaza will not be a refuge for those who seek to harm Egypt's security," said Abu Zuhri.
Tensions have mounted between Egypt and Hamas in recent years, as Cairo has accused Hamas of being involved in the terrorist attacks in the Sinai, most of which have been carried out by the "Sinai Province", which is the Islamic State (ISIS) affiliate in Egypt.
The latest example of the tension came when earlier this month Egypt accused Hamas of involvement, along with the outlawed Muslim Brotherhood, in last year's killing of the country's top prosecutor, Hisham Barakat.
Egypt began creating a wide buffer zone along the Gaza border in late 2014 in a bid to destroy the hundreds of smuggling tunnels Cairo says are used by Palestinian Arabs to deliver weapons to jihadists who are battling Egyptian forces in the Sinai peninsula.
The decision on the buffer zone was made following two deadly attacks in El-Arish, which killed dozens of soldiers and were claimed by Egypt's deadliest terrorist group, the Islamic State-affiliated Sinai Province.
Egyptian sources revealed that Hamas terrorists had provided the weapons for the lethal attacks in El-Arish through one of its smuggling tunnels. Hamas denied the charge.