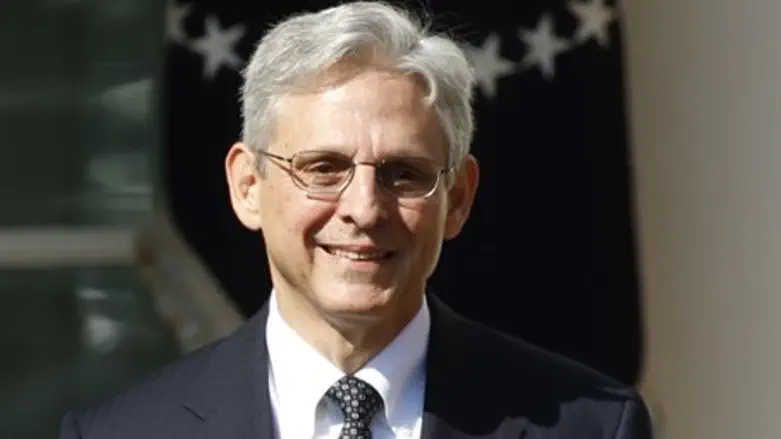 Merrick Garland
Reuters
President Barack Obama's new Supreme Court nominee, Merrick Garland, currently the chief judge of the U.S. Court of Appeals for the District of Columbia, emotionally credited his Jewish grandparents for his success.
"My family deserves much of the credit for the path that led me here. My grandparents left the Pale of Settlement at the border of western Russia and Eastern Europe in the early 1900s, fleeing anti-Semitism and hoping to make a better life for their children in America," he said, choking up Wednesday morning in the White House Rose Garden as he accepted the nomination.
Born to a Jewish mother and a Protestant father, Garland was raised Jewish.
According to JTA, Garland said his father, who ran a business from the basement of his family home, taught him the "importance of hard work and fair dealing," while his mother's volunteerism taught him the value of community service.
"For me there can be no higher public service than serving as a member of the U.S. Supreme Court," said Garland. "This is the greatest honor of my life other than Lynn agreeing to marry me 28 years ago. It's also the greatest gift I've ever received, except, and there's another caveat, the birth of our daughters, Jessie and Becky."
Court comprised of Jews and Catholics
Garland, a graduate of Harvard Law School, clerked for US Supreme Court Justice William J. Brennan Jr. In 1987, he married fellow Harvard graduate Lynn Rosenman in a Jewish ceremony at the Harvard Club in New York. Rosenman's grandfather, Samuel Rosenman of New York, was a state Supreme Court justice and a special counsel to presidents Franklin Roosevelt and Harry Truman.
If confirmed, Garland would be the fourth Jewish justice on the Supreme Court, which is comprised entirely of Jews and Catholics.
The lifetime appointment to the high court requires Senate confirmation, and Obama asked Republicans – who lead the Senate – to give Garland "a fair hearing and then a vote up or down." However, things will probably not be so simple, since Republicans leaders have vowed not to hold confirmation hearings or an up-or-down vote on any Obama nominee.
Republicans – who hope that their party will win the Nov. 8 presidential election – demanded that Obama leave the Supreme Court seat vacant and let his successor make the selection.
The National Jewish Democratic Council applauded the President's nominee.
Greg Rosenbaum, Chair of the NJDC Board of Directors, stated, "We are pleased to see the president formally nominate Chief Judge Merrick Garland, whom I have known well for 47 years, to the Supreme Court.
"Merrick's qualifications for the appointment are incontestable," Rosenbaum added. "We call on all members of the Senate to do their job and consider the president's nominee. We strongly believe Judge Merrick Garland deserves a seat on the Supreme Court and his nomination should be confirmed."