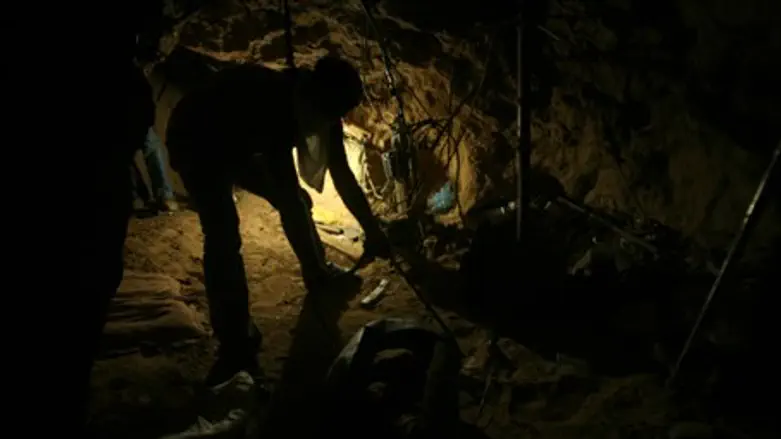 Gaza terror tunnel
Flash 90
A man described as a Hamas "field commander" died Monday in a "tunnel accident" in Gaza, the terrorist group said in a statement.
The Izz al-Din al-Qassam Brigades, Hamas' armed wing, said that Abd al-Salah al-Butnaji died while he was working in a tunnel in Gaza. Al-Butnaji, 36, was from the al-Shejaiya neighborhood of Gaza City, the terror group added.
On Saturday, Gaza's civil defense found the bodies of two Arab workers in a tunnel which had been flooded by Egypt three days earlier.
The tunnel collapse is the tenth in recent weeks, and while it is generally believed that this year's unusually heavy rainfall is the main reason for the collapses, there is growing speculation that an Israeli secret anti-tunnel weapon is at work underground.
"While Israel struggles to prevent the construction material it is allowing into Gaza from ending up in Hamas tunnels, it is developing a secret military weapon designed to eradicate the problem," wrote Foreign Policy last week.
The report cited intelligence officials who said Israeli engineers are working tirelessly to develop what's being called the "Underground Iron Dome" — a system that would detect and destroy Hamas's tunnels.
The United States has already appropriated $40 million in the 2016 financial year, in order "to establish anti-tunnel capabilities to detect, map, and neutralize underground tunnels that threaten the US or Israel," said US Defense Department spokesman Christopher Sherwood, according to the report. Most of the work in 2016 will be done in Israel, Sherwood added, but the US will "receive prototypes, access to test sites, and the rights to any intellectual property."
The Israeli companies working to develop the new anti-tunnel mechanism include Elbit Systems and Rafael Advanced Defense Systems, the same company that developed the Iron Dome rocket defense system that was put to effective use during the 2014 Gaza operation. "Both companies declined to provide any details due to security reasons, as did the IDF and other Israeli officials, who fear that such information could play into Hamas's hands," wrote Foreign Policy, but anonymous intelligence sources said that the system "involves seismic sensors that can monitor underground vibrations."
Yaakov Amidror, a former national security advisor to Prime Minister Binyamin Netanyahu and former head of Israel's National Security Council, told FP the confidential new system is not yet operational, but is "in a testing mode."
Ismail Haniyeh, the senior Hamas official in Gaza, told Gazans at Friday prayers in February that Hamas had "discovered an underground vehicle on which were installed cameras and sensors to monitor tunnels and fighters." Haniyeh claimed the find gave his movement an "advantage."
When Major General Yoav Mordechai, the Israeli Coordinator of Government Activities in the Territories (COGAT), was asked by the Ma'an news agency in February whether Israel had a hand in the collapse of the tunnels, he evaded a direct answer and only said, "God knows."