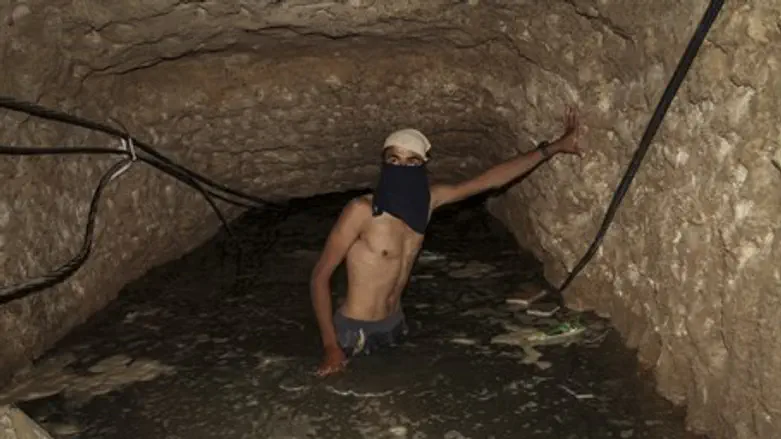 Gaza tunnel flooded by Egypt (file)
Abed Rahim Khatib/Flash 90
A Hamas delegation to Cairo has asked Egyptian authorities to stop destroying its tunnels leading out from the Gaza Strip.
The Hamas representatives, led by senior member Moussa Abu Marzouk, tried to convince Egyptians intelligence and security officials that Cairo is mistaken when it speaks of connections between local terror groups in the Sinai Peninsula and the Hamas administration.
Members from the Gazan delegation presented evidence that they are not involved in the attacks and are not connected with the terror organizations carrying them out. In addition, they pledged to act in coordination with Egyptian forces to investigate the attacks.
In light of these promises, the Hamas members asked Egypt to stop its anti-tunnel activity, which include flooding the area above the tunnels. The flooding collapses the tunnels, kills the Hamas diggers and sinks nearby homes.
Egypt responded that it will consider fulfilling some of the requests, but only if it is proven that Hamas has cut off its ties with the Muslim Brotherhood, and as long as it promises not to act in Egyptian territory or to operate its own forces in an effort to bypass Egyptians.
Hamas is the Palestinian branch of the Muslim Brotherhood, and has been repeatedly linked to an ongoing jihadist insurgency against the Egyptian state in the Sinai Peninsula, spearheaded by the country's ISIS franchise, "Sinai Province."