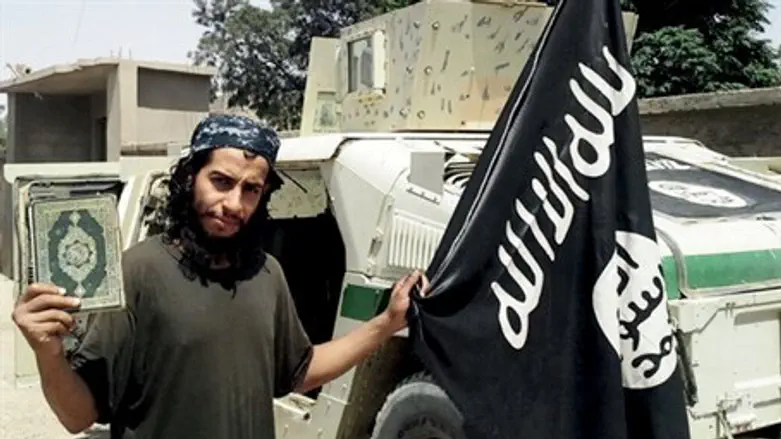 ISIS terrorist (illustration)
Reuters
The northern district attorney's office submitted an indictment on Sunday to the Nazareth District Court against an Arab resident of the city around 20 years of age who helped fund the brutal Islamic State (ISIS) jihadist group.
The Arab, Mahmoud Fayiz Sa'adi, is charged with illegal funding of terror, weapons crimes and providing means for conducting a crime. According to the indictment, he actively helped provide terror funds to ISIS.
Over the course of 2015 at three different junctures in time Sa'adi made transfers of $500 each time to his brother Mustafa, who left Israel around two years ago to join ISIS in Syria where he remains to this day.
Sa'adi's transfers to his brother were conducted although he was aware of the fact that Mustafa was an ISIS terrorist, and that the money would allow him to continue terrorizing and murdering innocent civilians.
The Nazareth resident is also indicted for illegal possession of a "Carlo" sub-machine gun belonging to his brother Mustafa who left the weapon with his family. The weapon has been used to shoot at an Israeli citizen according to the indictment.
In parallel the attorney's office asked to keep Sa'adi under arrest until the end of proceedings against him.
Sa'adi joins one of a growing number of Arab citizens of Israel who support or have actively joined ISIS.
Just late last month it was reported that a "normal" Arab resident of the north - as described by locals who knew him - divorced his wife and infiltrated into Syria to join ISIS. ISIS supporting terrorists have on a number of occasions tried to attack Israel from within, including several homegrown ISIS cells.
A poll last November found that 18.2% of Arab Muslim citizens of Israel do not consider ISIS to be a radical terrorist organization, and that they are not ashamed of the brutal jihadist group. That figure jumped to 28.1% among Arab citizens who are supporters of the radical Islamic Movement in Israel, which is funded by Hamas.