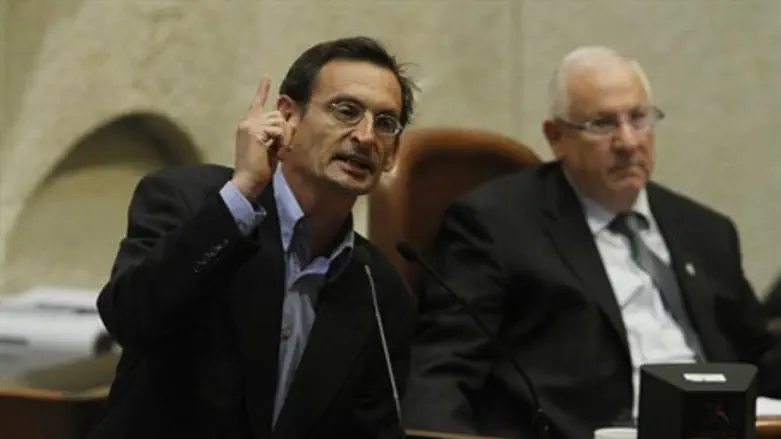 Dov Khenin
Flash 90
MK Dov Khenin, the sole Jewish representative in the Joint List party, on Friday said that his party's statement this week which backed Hezbollah after Gulf states blacklisted it as a terrorist organization was "badly written".
Speaking to Channel 2 News, Khenin who is a member of the Hadash faction of the Joint List also criticized Prime Minister Binyamin Netanyahu's response in the Knesset to the Arab MKs.
Netanyahu had mocked the Arab MKs' support for Hezbollah as "amazing," noting that as Israeli citizens, they're potential targets.
"Will you still condemn [the designation] when Hezbollah is shooting missiles at your villages? Do [you think] they will distinguish between [your] blood and ours?," said Netanyahu.
"[Hezbollah] wants to destroy the country, you're citizens of the state; you're in the state. Did you fall and hurt your heads?"
Responding to the criticism on Friday, Khenin told Channel 2 News, "I had a very difficult week: I belong to a Jewish-Arab peace movement, a socialist movement, and suddenly we are accused of supporting a religious fundamentalist military organization."
"The bottom line is that we are accused of being in favor of being fired upon by missiles. Really?! One can argue with our positions, but there's a limit," he added.
Referring to the statement itself, to which Hadash was signed along with the Balad faction, Khenin said, "Hadash came out with a statement, a long text, the subject of which was not Hezbollah. The real issue in this is ISIS. ISIS is a great threat to the Middle East and to Arabs in Israel. It is our job to fight ISIS and those who are behind the movement. This Hadash statement denounced the hypocrisy of the leaders of the Gulf states, including Saudi Arabia. On the one hand, they support ISIS and ISIS-like organizations, and on the other hand they want to be seen as fighting terrorism."
Khenin then expressed regret over the wording of the statement which was interpreted as support for Hezbollah.
"I'm not hiding behind anything - it was not written well and that's too bad. If it had gone through some debate – the text would have been written differently. If it would have come to the faction members in the Knesset, it would have been written differently. But then again that very night, we - the faction - we sent out a statement that says exactly what I told you just now: Hezbollah is a religious, military, fundamentalist organization. We are opposed to attacks on civilians," he said and then, when asked why the Joint List party failed to call Hezbollah a terrorist organization, replied, "Deliberate firing at civilians is an act of terrorism."
Khenin then blasted Netanyahu for his verbal attacks on the Arab MKs following the statement.
"What happened was beyond imagination. Netanyahu goes up to the Knesset podium and accuses us of supporting the firing of missiles at Israel. We have had a stance over the years that Netanyahu knows: We are against the harming of civilians, we are we opposed to civilian casualties in Israel, Syria, Lebanon, Gaza. This is our position. Throughout the years. This is not something new."
"In 2006," continued Khenin, "Hezbollah launched rockets against Israel, on Haifa and the Galilee. We came out very strongly against it - not only here, on Channel 2, which is easy, but also on Al Jazeera facing the entire Arab world. Former MK Issam Makhoul went on there and spoke out against the firing of rockets on Israeli citizens."
(Arutz Sheva's North American desk is keeping you updated until the start of Shabbat in New York. The time posted automatically on all Arutz Sheva articles, however, is Israeli time.)