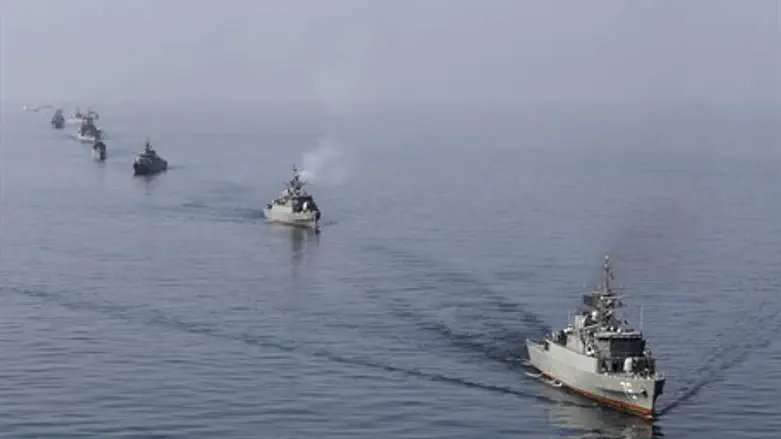 Iranian naval ships (file)
Reuters
In the wake of US Secretary of State John Kerry's warning call to Iran on Wednesday protesting its recent ballistic missile tests defying US sanctions, Iran on Thursday held a ceremony rolling out new missile speedboats while announcing plans to expand its navy.
Rear Admiral Ali Fadavi, chief of the Islamic Revolutionary Guards Corps (IRGC) Navy, spoke on Thursday at the ceremony to deliver 50 missile speedboats to Iran's Navy.
According to Fadavi, Iran will start building high-speed boats capable of cruising at 80 knots per hour, which works out to roughly 150 kilometers per hour, reports the state-run PressTV. The ships are to have anti-ship cruise missiles and cannons mounted on them.
The project to build the new missile ships will begin in the next Iranian calendar year starting on March 21, according to the Navy chief.
Iranian Defense Minister Hossein Dehqan also spoke at the ceremony and touted the plans to roll out the new boats, adding that they are to be active in the Persian Gulf and the Sea of Oman as part of Tehran's plans to expand its naval power.
Describing the new ships, Rear Admiral Gholam Reza Khadem Biqam, Lieutenant Commander of the Iranian Navy, told Fars News Agency that they will be larger and equipped with the latest state-of-the-art technology.
"Iran plans to improve its naval resources in order to have a bigger presence in international waters," he said.
He added that the 38th Iranian Navy fleet recently docked at Dar es Salaam in Tanzania as part of Iran's plan of expanding its naval presence internationally.
"The flotilla of warships berthed at the African port as part of the Iranian naval forces' training exercises on March 1," he added.
During Iran's latest series of ballistic missile tests earlier this week in defiance of US sanctions and UN resolutions, the head of Iran's Revolutionary Guards declared that Israel is "in range of most of our missiles."
The US has said that the series of recent missile tests breach the terms of a UN Security Council resolution and will result in new economic sanctions - either from Washington or the world body.
In response to the missile tests, Israel has called for "decisive action" to be taken by the world against Iran, the world's leading sponsor of terror.