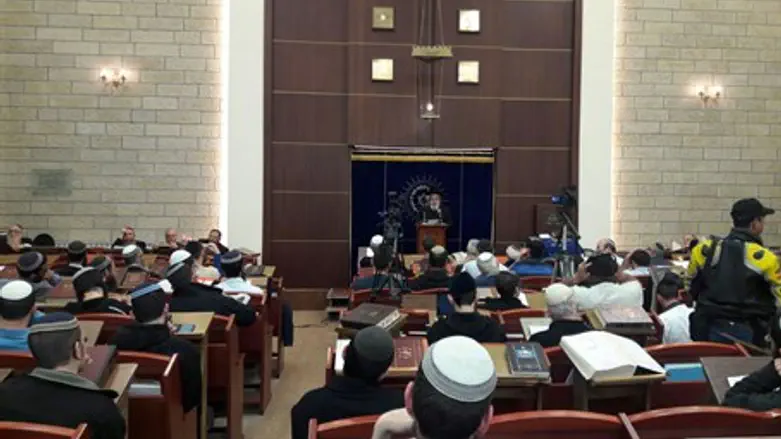 Merkaz Harav memorial
Hezki Ezra
A memorial at Merkaz Harav Yeshiva in Jerusalem's northwest Kiryat Moshe neighborhood took place on Sunday evening, marking eight years since an Arab terrorist broke in and gunned down eight students in an horrific massacre back in 2008.
Family members of the murdered took part in the memorial, as did public figures, Knesset members and students, rabbis and graduates of the yeshiva.
The victims of the attack were Doron Mehereta, 26, Ro'i Aharon Rote, 18, Yonadav Haim Hirschfeld, 19, Yochai Lipshitz, 18, Yonatan Yitzchak Eldar, 16, Neriah Cohen, 15, Segev Pniel Avichayil, 15, and Avraham David Moses, 16.
Part-time yeshiva student Yitzhak Dadon prevented further casualties when he courageously climbed through an upper window and shot at the terrorist. A yeshiva graduate, IDF officer David Shapira, was on his way home on leave at the time when he shot the terrorist dead.
Rabbi Ya'akov Shapira, dean of Merkaz Harav Yeshiva, said at the memorial that "for us it isn't just a day of memorial but a day of terua (sounding the shofar, a term for Rosh Hashana - ed.)."
"Every person and community has moments of soul unity. Even in the most hidden place the Holy One blessed be He is present. After eight years we are again on the day of remembrance," he said.
In a grief-filled voice, Rabbi Shapira said, "we did not manage to separate from the eight murdered in time because all of them were one, like the eight branches of the menorah (in the Temple) with their knobs."
The dean of the yeshiva's youth department Rabbi Yerachmiel Weiss said, "eight years after the tragedy, there is a habit of (just) living life."
"On the other hand, our missing them increases as does the account of what would have been if they were alive today among us," he added.
"We are tied to the families in memory. We remember the dear souls and the missing sons and all of it is in a connection to life. To embrace. To support and to raise up the families."
Merkaz Harav after the attack Flash 90