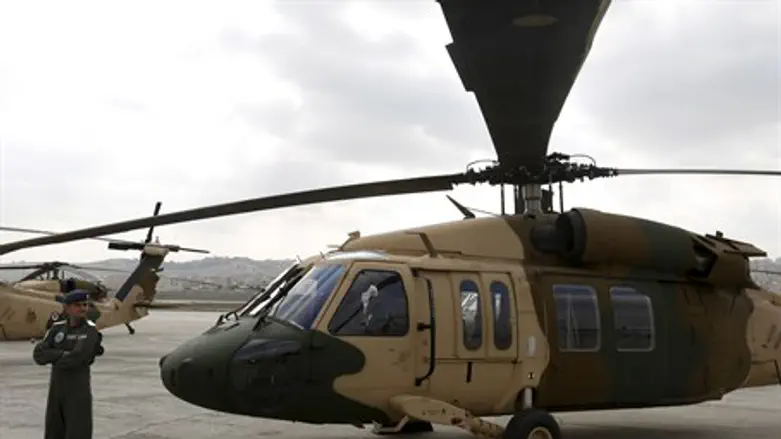 Jordan receives Black Hawk helicopter
Reuters
The United States delivered eight Black Hawk helicopters to Jordan on Thursday to help its regional ally defend itself against the threat of Islamic State (ISIS) jihadists, Jordanian and U.S. officials said, according to Reuters.
They said another eight Black Hawks would begin arriving next year under a military aid deal worth about $200 million.
The helicopters are central to a U.S.-funded "Quick Reaction Force" set up by Jordan to counter Islamic State, which controls large swathes of territory in neighboring Iraq and Syria.
In a handover ceremony at Marka military airforce base, U.S. ambassador to Jordan Alice G. Wells said Washington had supplied "millions of rounds of small arms ammunition, hundreds of bombs" and other equipment to Jordan since February last year.
"The United States is committed to standing with Jordan to face the threat posed by Daesh," she was quoted by Reuters as having told senior Jordanian army officers, using the Arabic acronym for ISIS.
The deliveries come one day after Jordan said it foiled a major ISIS plot in the kingdom when it conducted a raid near its border with Syria that killed seven suspected jihadists.
Jordan is part of the U.S.-led military coalition that has been carrying out air strikes against ISIS in Syria and Iraq.
The country was affected directly by ISIS in December 2014, when a Jordanian fighter pilot who was captured by ISIS was  burned alive in a cage by members of the group.
Jordan's King Abdullah II was said to have been concernedover a possible ISIS invasion of the country several months ago, after 3,000 bombing raids by the United States and its allies had not beaten ISIS.
Since the start of the Syrian conflict in 2011, Washington has spent millions of dollars to help Amman set up an elaborate surveillance system known as the Border Security Program to stem infiltration by jihadists from Syria and Iraq, noted Reuters.