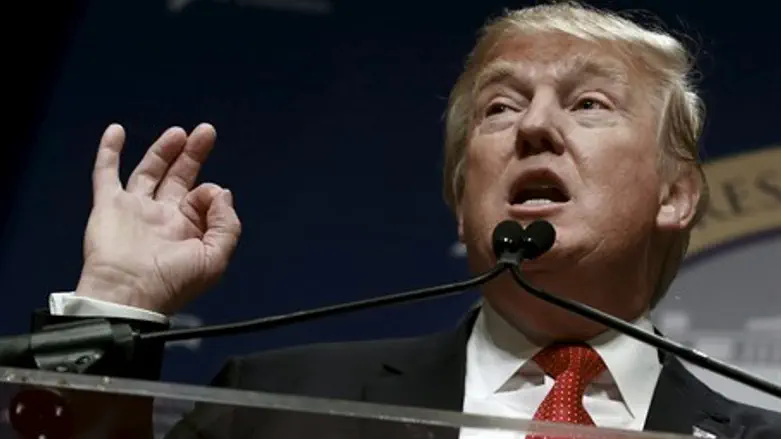 Donald Trump at Jewish Republican Coalition
Reuters
Dozens of Republican foreign policy experts signed an open letter Wednesday in which they declared that they "are unable to support a Party ticket with Mr. (Donald) Trump at its head."
The letter, which was published by War on the Rocks, a defense and foreign policy website, was initiated by Eliot Cohen, a former top State Department official under George W. Bush. "Hillary (Clinton) is the lesser evil, by a large margin," he told Politico. Trump's election would be "an unmitigated disaster for American foreign policy," he said, adding that "he has already damaged it considerably."
Cohen called Trump "the most dangerous demagogue in American politics in my lifetime" and said he would "strongly prefer a third party candidate," yet added: "Probably if absolutely no alternative: Hillary."
Another signatory of the letter, Max Boot, a hawkish military historian at the Council on Foreign Relations, said in an interview with Vox that he, too, would vote for Clinton over Trump. "I'm literally losing sleep over Donald Trump," he said. "She would be vastly preferable to Trump."
"A Trump presidency would represent the death knell of America as a great power," Boot writes in the March 7 issue of the Weekly Standard, along with Council on Foreign Relations economist Benn Steill.
Steill and Boot called Trump "singularly ill-equipped to manage the resulting turmoil" from his own policies.
The letter was also signed by Peter Feaver, a former senior national security aide in George W. Bush's White House, Robert Zoellick, a former deputy to Secretary of State Condoleezza Rice, and Dov Zakheim, a former foreign policy adviser to George W. Bush.
Politico cites several "neocons" – a term that does not have a clear definition, but often refers to Jewish conservatives – who fervently oppose Trump.
Elliott Abrams, a former national security council aide to George W. Bush who specializes in democracy and the Middle East, said that he may be "unable to vote for Trump or Clinton."
Weekly Standard Editor Bill Kristol said he would try to find a third option before choosing between Trump and Clinton.
"If it's Trump-Clinton, I'd work with others to recruit a strong conservative third party candidate, and do my best to help him win (which by the way would be more possible than people think, especially when people — finally — realize Trump shouldn't be president and Hillary is indicted)," he wrote in an email.
Last week, Robert Kagan, a key backer of the Iraq War, wrote in the Washington Post that a Trump nomination would force him to vote Democrat.