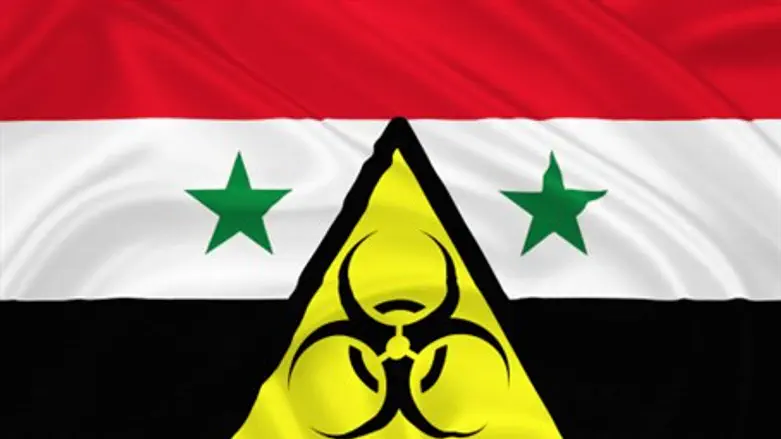 Syria chemical weapons
Thinkstock
State Department spokesman Mark Toner on Wednesday said that Washington was aware of reports that the Syrian regime has used chemical weapons in attacks that took place since the beginning of a ceasefire agreement several days ago, reported The Washington Free Beacon.
"We're aware of their reports, we obviously can't confirm them at this time," Toner said in his daily briefing though he condemned the use of chemical weapons regardless.
"You know our policy is we strongly condemn any use of chemical weapons," he stressed.
Toner said that the Organization for the Prohibition for Chemical Weapons (OPCW) would look into the reports and forward its findings to a United Nations investigative task force.
"If [OPCW] can determine that a specific incident … has taken place … it'll be referred to the Joint Task Investigative Mechanism that's been established under UN Security Council Resolution 2235 for further investigation," he added.
The comments came a day after Defense Minister Moshe Ya'alon accused the Syrian regime of Bashar Al-Assad of using chemical weapons against civilians on several occasions since the current ceasefire began in the war-torn country.
"The Syrians used military grade chemical weapons and lately have been using materials, chlorine, against civilians, including in these very days, after the supposed ceasefire, dropping barrels of chlorine on civilians," he said, in comments quoted by Reuters.
Ya'alon did not give any further details of when or where the attacks took place, or how many people were killed or injured in them.
The ceasefire, which began last weekend, is part of the international efforts to reach a diplomatic solution to the bloody five-year Syrian civil war.
While Ya'alon has not publicly provided details of the chemical attacks that have taken place since the start of the ceasefire, it is well-known that chemical attacks have taken place in the country on several occasions since the start of the civil war.
Previous fact-finding missions by the OPCW in Syria have pointed to the use of chlorine and mustard gas during the civil war in that country, but the OPCW was not tasked with finding out who was to blame for the attacks, which the rebels have blamed on the Syrian regime.
Syria has denied ever using chemical weapons in the civil war, and it argues that claims otherwise or only meant to " serve political agendas".
After an August 2013 sarin attack outside Damascus that much of the international community blamed on Assad's government, the regime agreed to turn over its chemical arsenal and, as of January, it was declared to have been completely destroyed.
In addition to Assad's regime, it is also believed that the Islamic State (ISIS) jihadist group has gotten its hands on chemical weapons.
Last month, CIA director John Brennan warned that ISIS fighters have used chemical weapons and have the capability to make small quantities of chlorine and mustard gas.
In September, American intelligence officials said they "knew" ISIS was using chemical attacks in both countries, adding the jihadists used such weaponry "on at least four separate occasions on both sides of the border."