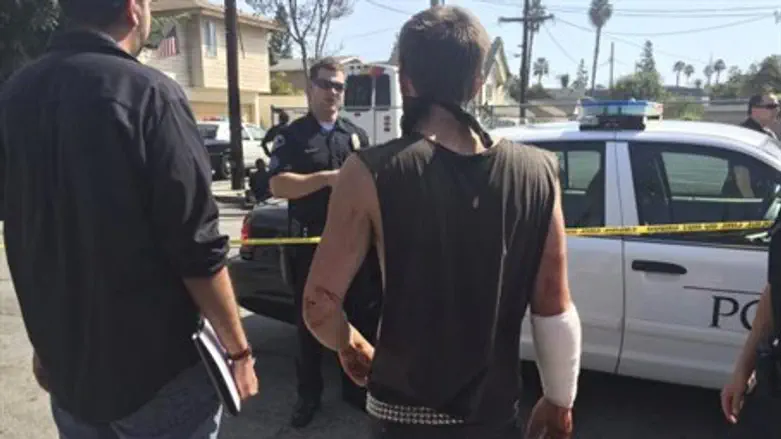 Injured Klansman
Reuters
Brian Levin, a Jewish academician and activist, is being credited with saving three Ku Klux Klan members from severe injury at a rally Saturday in Anaheim, California, when the event turned into an extremely violent confrontation between Klansmen and counter-protesters.
Klansmen stabbed three of the counter-protesters but the police have placed most of the blame for what happened on the counter-protesters. Sgt. Daron Wyatt, a police spokesman, said: "The totality of the evidence, including videos, still pictures, and interviews, paints a pretty clear picture as to who the aggressors were," he said. "It does appear to be self-defense and defense of another."
Seven counter-protesters were arrested, three of them on suspicion of assault with a deadly weapon.
Five Klan members were also arrested, but police released them after viewing video taken at the scene.
Levin, director of the Center for the Study of Hate and Extremism at California State University, San Bernardino, was videotaping the KKK rally, when he saw that the KKK men were being attacked by counter-protesters armed with wooden posts.
He jumped in to defend them.
"[The counter-protesters] were so angry, they would have torn these folks limb from limb," Levin told The Associated Press. "I was afraid for their lives."
A white supremacist site jeeringly called him "The Jewish Batman."
According to Newsweek, police said the counter-protesters showed up early at the rally with "the intent of perpetrating violence." Seven of them attacked KKK members with wooden posts, and the KKK members retaliated by stabbing three of the attackers.
In a video he recorded, Levin asked the Klansmen he protected, "How do you feel that a Jewish person helped save your life today?"
The man answered: "I thank you. I thank you. I would have saved a colored man's life."
Police were reportedly still searching for one person who can be seen on video kicking William Quigg, the self-identified leader of the Klan group.