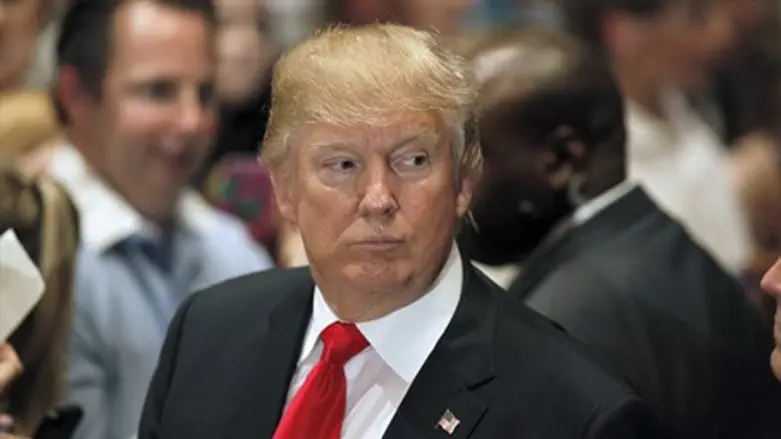 Donald Trump
Reuters
Republican presidential candidate Donald Trump is dismissing remarks by other candidates that he could be detrimental to Israel and is declaring that he is "Israel's biggest friend".
Trump's comments came in an interview with Israel Hayom's Boaz Bismuth, which was published on Friday and conducted this past week after his victory in Nevada.
In the interview, the billionaire dismissed Florida Senator Marco Rubio's assertion that he was not a supporter of Israel, stressing, "My friendship with Israel is stronger than any other candidate's."
"I want to make one thing clear: I want to strike a peace agreement between Israel and the Palestinians. It is what I aspire to do. Peace is possible, even if it is the most difficult agreement to achieve. As far as I understand, Israel is also interested in a peace deal. I'm not saying I'll succeed, or even that an agreement between Israel and the Palestinians is within reach, but I want to try. But in order for an agreement to happen, the Palestinians need to show interest. It's a little difficult to reach an agreement when the other side doesn't really want to talk to you," said Trump, clarifying earlier comments that he would be "neutral" on the Israeli-Palestinian issue.
Those comments have garnered criticism from not only other Republican candidates but also from the leading Democratic candidate, Hillary Clinton, who said Trump had "missed the mark".
"Don't get confused there in Israel: I am currently your biggest friend. My daughter is married to a Jew who is an enthusiastic Israel supporter, and I have taken part in many Israel Day parades. My friendship with Israel is very strong," stressed Trump.
Asked about the nuclear deal with Iran, which he has heavily criticized, Trump told Israel Hayom he thought the deal "was the worst deal that Israel could have gotten."
"Think about it: Beyond the deal itself, Iran also received $150 billion. And to think that they signed that deal without discussing it with Israel! As far as I'm concerned, this deal is the worst thing that ever happened to Israel," he said, adding, "There is a clause in it that stipulates protecting Iran's nuclear facilities should they come under attack. You have to read it to believe it. It may very well be the dumbest thing I've ever seen. I don't understand what it means, that America will attack Israel if Israel attacks Iran? That's ridiculous."
Obama, he added, "isn't good. For Israel, he has been the worst president in history. Look at how frustrated Prime Minister [Binyamin] Netanyahu was every time he visited Washington. All of Netanyahu's claims are correct; he is 100% right. Is this any way to treat our friends?"
"I will make sure that changes," stressed Trump, who also reiterated, "If I make it to the White House, you will have a true friend there."
The interview comes ahead of "Super Tuesday", when 11 states hold caucuses on the same day and 600 delegates are up for grabs.
On Friday, Trump was endorsed by New Jersey Governor Chris Christie, who had earlier suspended his own presidential bid. Christie is himself a great supporter of Israel, and visited the Jewish state in 2012 for a four-day trip intended to "strengthen New Jersey's economic and diplomatic relationships with foreign nations."
(Arutz Sheva's North American desk is keeping you updated until the start of Shabbat in New York. The time posted automatically on all Arutz Sheva articles, however, is Israeli time.)