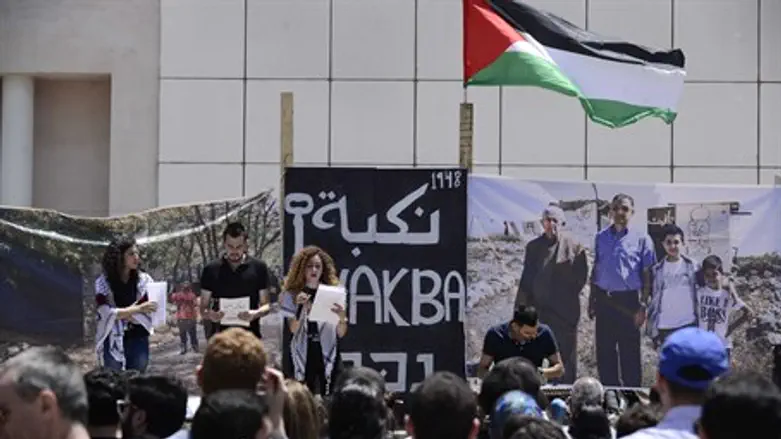 "Nakba" demonstration at Tel Aviv University (file)
Tomer Neuberg/Flash 90
The anti-Zionist and ultra-leftist organization Zochrot prepare for their "Nakba" Film Festival at Haifa's Cinematheque, with the goal of embedding the Palestinian "catastrophic exoduses" as part of Israeli dialogue.
The festival is set to begin on Friday despite strong objections by the mayor of Haifa who specified that the festival will not be funded by the cinema, but solely by the movement itself.
Despite fundamental objections by the mayor and by the Minister of Culture MK Miri Regev (Likud) of any government-funded cultural institutions - such as the cinematheque - hosting "Nakba" events, the film festival is still due to take place on Friday.
As the event nears, members of the Likud Youth Movement prepare to demonstrate in protest stating that "The sole purpose of the festival is to change the consciousness of the general Israeli public, and in particular the people of Haifa, by promoting 'Nakba' and not the independence and the establishment of our state, and the Palestinian 'right of return' which undermines those who fought for the legitimate concept of this right for Jews in Israeli society."
"Despite the incompetence of the Haifa municipality which allowed such a festival to take place, we will not be silent and not stand idly by while the honor of our soldiers, those who fell in Israel's wars and the honor of our country is desecrated. Our statement is clear: Commemorating the 'Nakba' is equivalent to commemorating the day Nazi Germany was defeated. Our historic right to the Land Israel is absolute and cannot be challenged," stated the organizers of the demonstration, which is due to begin shortly before the start of the festival on Friday.
In contrast, the Zochrot movement stated that it is important to hold the festival especially in a city like Haifa, as their films "Promote a change in consciousness and expand the circles of influence through encouraging viewers to generate and embed 'Nakba' in public discourse and dialogue. Through cinema, we can reassess the identities silenced and build for a better future."
"The event will be made up by a series of short films produced specifically for the festival, and afterwards, a discussion (in Hebrew) will be held regarding the artistic and political endeavors, freedom of expression, and implementation of the Palestinian 'Nakba' and other controversial subjects in cultural discourse," said the Zochrot movement.