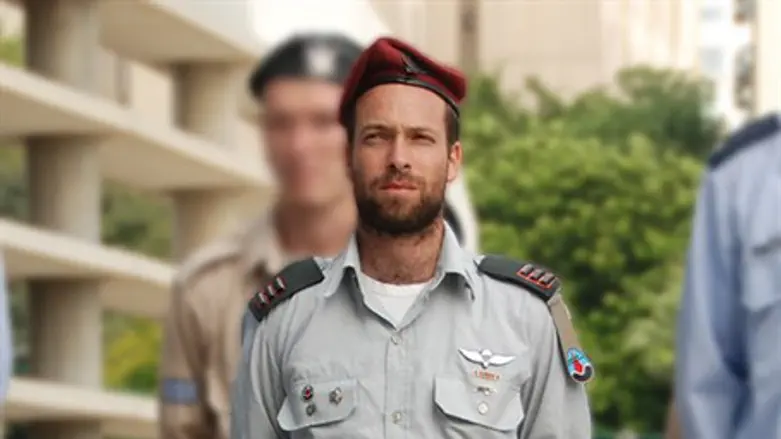 Major Eliyav Gelman
IDF spokesman
The residents of Karmei Tzur are trying to process the death of IDF reserve Major Eliyav Gelman, who was killed during a terror attack at Gush Etzion Junction today.
Gelman's friends and neighbors spoke with Arutz Sheva about his character. "He was a special, modest and simple man. Someone who said little and did much. This is a great loss and has left us with painful feelings. We are sad and hurt," said his friend Yehuda Wald, a spokesperson for the community.
Major Gelman's funeral will take place tonight at 9:30 p.m., at the Kfar Saba cemetery. He was granted a promotion from captain following his death.
Gelman, who served as an officer in the Air Force, is related to Major Banya Sarel. Sarel was killed during Operation Protective Edge.
Gelman's brother spoke of his memory, saying: "Our family is active in security, in setting up communities. My brother fell, he was the best of the best. In addition to this he was a company commander, a great fighter with many good traits. He was excellent, precise, loved, loving, connected to the Jewish People, to the Land of Israel, to the Torah of Israel. He was dedicated to the Torah. Every day he would get up, regardless of what happened at night, wherever and whenever, even in the army. He would study Daf Yomi and the Torah. He was always connected to the roots of the Jewish People, of the Land of Israel, of the holy Torah.
"My brother fell in battle, in a battle that we have known for a long time. Mourning those lost in fighting and riots has been with the Jewish People for 150 years, since the casualties of the first battle in 1873. My brother also went in, my dear brother. You entered this circle, the same single platter that this people has dealt with for 150 years. During this time the generations revived continued and redeemed the Land of Israel and built the State of Israel. God gives, God takes, blessed be the name of God."