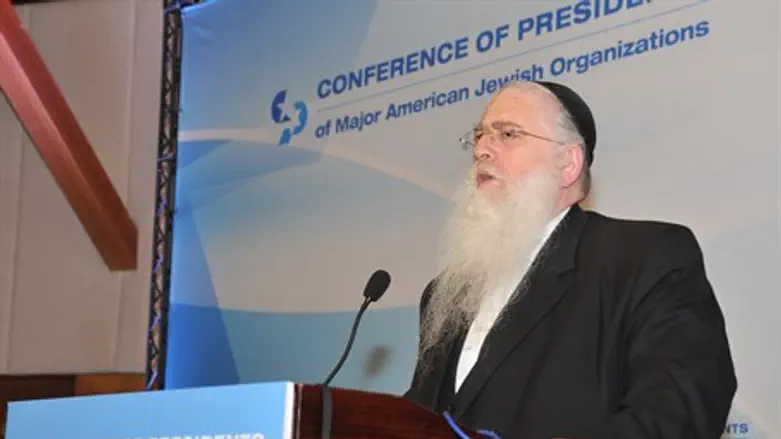 Meir Porosh, archive
Avi Hayon
The Council of Hasidic Torah Sages met in Jerusalem this afternoon (Wednesday) to discuss the growing influence of the Reform movement in Israel.
The rabbis looked into the government decision from about three weeks ago to officially assign part of the Kotel plaza to Reform worshipers, as well as the Supreme Court ruling on Reform converts using mikvehs.
The rebbes of Gur, Gelz, Vizhnitz, Biala, Sadigura, and more attended, along with UTJ Knesset members Yaakov Litzman, Meir Porush, Yisrael Eichler and Menachem Moses.
Apart from the issue of Reform Judaism, the Council discussed the desecration of Shabbat in the capital and the Education Ministry's relationship with haredim.
This morning (Wednesday), Deputy Education Minister Porush offered harsh comments about Netanyahu's meeting with Reform leaders. "The connection between Netanyahu and Reform Jews sounds an alarm and we are very worried because this is the most dangerous sect for the future of the Jewish People. True Judaism requires an end to this connection," he hold the haredi newspaper Hamashber.
Porush further stated that "The Prime Minister's meeting with the leaders of the Reform and Conservative movements is like a stab in the heart of true Judaism. It's not reasonable that the heads of the movements that caused terrible assimilation and the annihilation of millions of Jews in the diaspora, and whose singular goal is always to undermine true Judaism, should receive a sympathetic ear and support from the Prime Minister for their fiendish deeds."
Degel Hatorah rabbis have also spoken loudly on the issue. The head of the Ponevezh Yeshiva, Rabbi Povarski, told the Lithuanian journal Yated Ne'eman that the Reform movement falsifies Judaism. "The Reform Jews want to replace the holy Torah. They are true heretics. They desecrate the Torah. It is forbidden to talk with them and forbidden to deal with them. They are worse than secular Jews. A secular Jew doesn't get involved - he says 'I'm secular,' but a Reform Jew says 'I'm a rabbi.' This is truly fake."