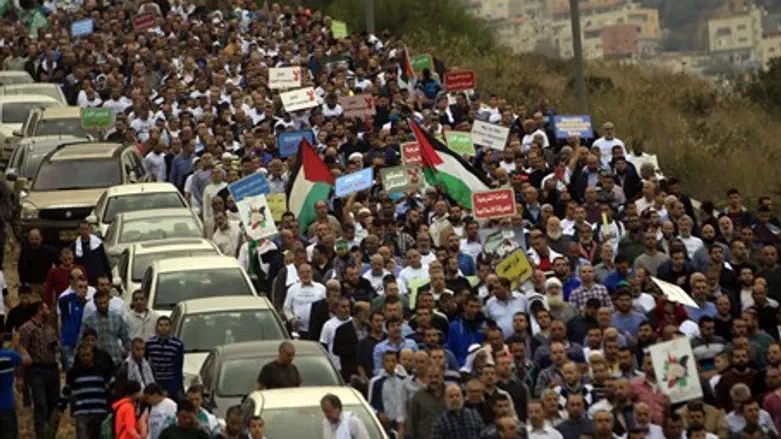 Arab Israeli Islamists in 'triangle' region (illustration)
Muammar Awad/Flash 90
A 24-year-old Arab citizen of Israel was revealed on Tuesday as having become the latest in a growing number of Israeli Arabs leaving the country to join the Islamic State (ISIS) terrorist organization.
The man, a resident of the "triangle" region in northern Israel that is home to over 300,000 Arab citizens, left for Turkey around a month ago and has yet to return. His family explained that he infiltrated into Syria to join the jihadists, according to a Yedioth Aharonoth report on Tuesday.
Since leaving Israel the jihadist has not made contact with his family, but they claim their suspicions were only raised several days ago, when a letter he left behind was found in which he said he divorced his wife and intends to go join ISIS.
Sources close to the jihadist claimed to the paper "we don't know who caused him to think of an idea like this and who supported him. We didn't notice that he supported certain organizations, and we didn't think that he was capable of doing something like this. We also didn't feel that he supported certain organizations."
"He always acted as normal without any changes in his life," they said. "We hope that he will see this publication and understand that we are worried about him and waiting for him to return."
The Israeli Security Agency (ISA) on Tuesday confirmed that they were aware of the man who left for Turkey and did not return.
Well over 40 Israeli Arabs have joined ISIS in the last few years, with at least five of them said to have fallen in combat. Indictments have been submitted in Israel against ISIS members who returned to Israel, as well as Arab citizens who expressed open support for the terrorist organization.
A resident of the town in the "triangle" region that the terrorist hails from told the paper that it is common for local Arabs to join ISIS, but said he was surprised about the latest member.
"Sometimes I would hear from the residents about youths who joined ISIS and I wasn't surprised, but it's hard for me to believe it about this youth. I know him from up close and there is no way he would infiltrate into Syria," he said.
ISIS supporting terrorists have on a number of occasions tried to attack Israel from within, including several homegrown ISIS cells.
A poll last November found that 18.2% of Arab Muslim citizens of Israel do not consider ISIS to be a radical terrorist organization, and that they are not ashamed of the brutal jihadist group. That figure jumped to 28.1% among Arab citizens who are supporters of the radical Islamic Movement in Israel, which is funded by Hamas.
While some members of the Israeli government have denied the terror threat posed by Israeli Arabs, Arab citizens have repeatedly taken part in the current terror wave, most notably in a lethal Tel Aviv shooting on January 1 by a resident of the "triangle."