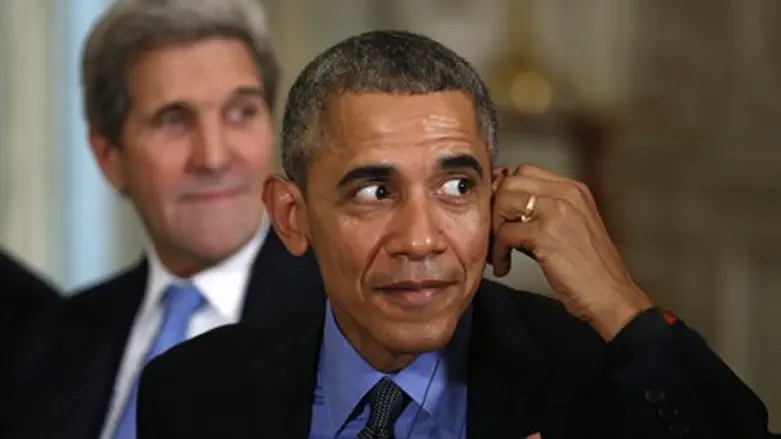 Barack Obama, John Kerry
Reuters
Obama's NSA spy network tapped into phone calls between Prime Minister Binyamin Netanyahu and European leaders, Wikileaks reported on Tuesday.
A newly released batch of NSA reports uncovered by Wikileaks has revealed that Netanyahu appealed to Europe to intervene with President Barack Obama during their public 2010 spat over a Jerusalem building project.
The NSA caught wind of Netanyahu's efforts when it intercepted a phone call between the Israeli Prime Minister and Italian Prime Minister Silvio Berlusconi in 2010.
Netanyahu asked the Italian leader to reason with President Obama, noting that the construction project in Jerusalem was consistent with long-standing Israeli policy since the 1960s. 
At the heart of the dispute was a planned housing project for 1,600 units in the Jerusalem neighborhood of Ramat Shlomo.
According to the NSA report, Israeli officials were skeptical of Europe's ability to affect a rapprochement, arguing that the Obama administration represented "the lowest point in US- Israeli relations in memory", and that Obama's ire towards Israel goes "far beyond merely the question of the construction plans".
The Wikileaks document is only the latest example of Obama's clandestine surveillance operations monitoring the Israeli Prime Minister. Last December it was reported that the NSA had continued spying on Netanyahu despite a pledge by President Obama to halt wiretaps on friendly heads of state.