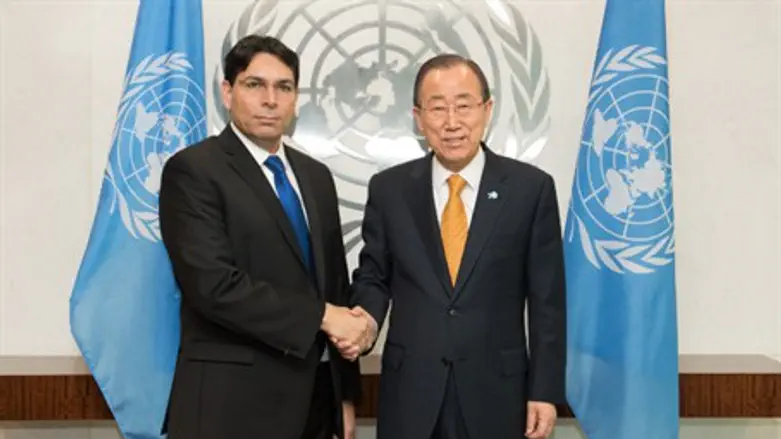 Danon and Ban Ki-moon
Shahar Azran
Israeli Ambassador to the UN Danny Danon, submitted a letter to Secretary-General of the United Nations Ban Ki-moon calling for the condemnation of the threats made by Hassan Nasrallah against Israel.
Hezbollah leader Nasrallah said on Tuesday that he would attack the chemical manufacturing plants in Haifa in order to achieve the type of devastation that can be achieved by a nuclear explosion. "Hezbollah has a 'nuclear bomb' - Haifa has 15 tons of ammonia, and any Hezbollah missile attack will turn them into a nuclear bomb that would cause the deaths of tens of thousands," he declared in a televised broadcast from his bunker during the organization's annual memorial ceremony.
"The dangerous military strengthening of Hezbollah, and the murderous comments made by its leaders, demand condemnation," wrote Danon in his letter to Ki-moon. "When a terror organization publicly threatens the citizens of another country, silences is unacceptable."
Danon emphasized the ongoing role that Hezbollah plays in the Syrian civil war, and the strengthening of the organization in southern Lebanon and their flagrant violations of resolution 1701 adopted by the security council in August, 2006 calling for the end of the Second Lebanon War.
"Hezbollah has turned southern Lebanon into a military fortification in order to fire upon Israeli civilians  indiscriminately. It is therefore committing two war crimes simultaneously," Danon added. "I call upon you to condemn this dangerous and violent declaration by the leader of Hezbollah, and demand that the government of Lebanon abide by its commitments that were established in Security Council resolution 1701."