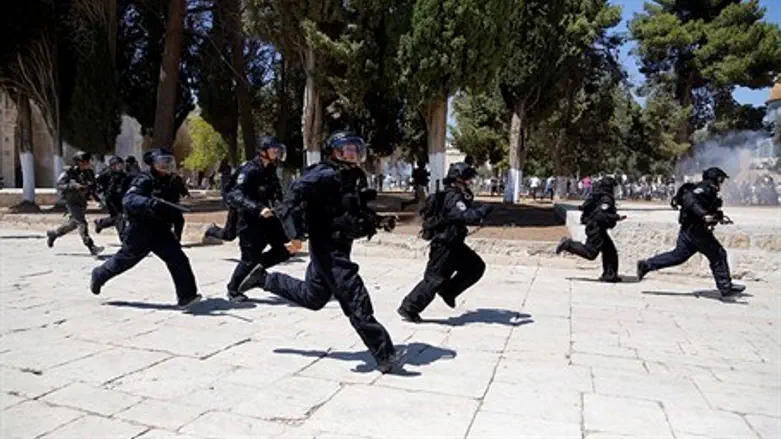 Yassam police in action.
Sliman Khader / Flash 90
A senior police officer has been voicing political opinions on his private Facebook page, and he appears to be in some trouble, though it is not clear how much.
Channel 2's Mako website featured screenshots from the Facebook account of Chief Superintendent Meir Namir, the commander of the Jerusalem District Police's Yasam SWAT unit.
After MK Ahmed Tibi of the Arab Joint List mocked MK Anat Berko (Likud), a former lieutenant colonel in the IDF, and said that, with people like Berko in its ranks, he is puzzled as to "how Israel managed to defeat us [Arabs] five times [in wars]," Namir wrote of Tibi: "A small person, a hypocritical propagandist. I am more puzzled by how it is that he is sitting in the Israeli Knesset."
MK Karin Elharar (Yesh Atid) "requires hospitalization, but in Israel she is a lawmaker," he opined on another occasion.
Of the European Union's foreign minister, Federica Mogherini, he wrote: "this piece of garbage is like a Nazi Israel hater."
Following the recent Labor Party convention, Namir posted: "I've never seen anything like this. They are willing to change ideology, as long as they grab the reins of power. Bunch of zeros, keep going down the path to hell."
Politicians were not the only ones he made remarks about. IDF Radio's Razi Barkai – who compared mothers of IDF MIAs to the mothers of Arab terrorists – is "garbage, scum," the respected officer wrote.
Next to a photo of Supreme Court Judge Meni Mazuz, he wrote: "And these guys run the country."
Namir told Mako that the posts are his own private business and were written for his friends' eyes.
The Israel Police said that Namir's statements are being looked into and a decision will be reached as to whether administrative or command-level steps will be taken against him.