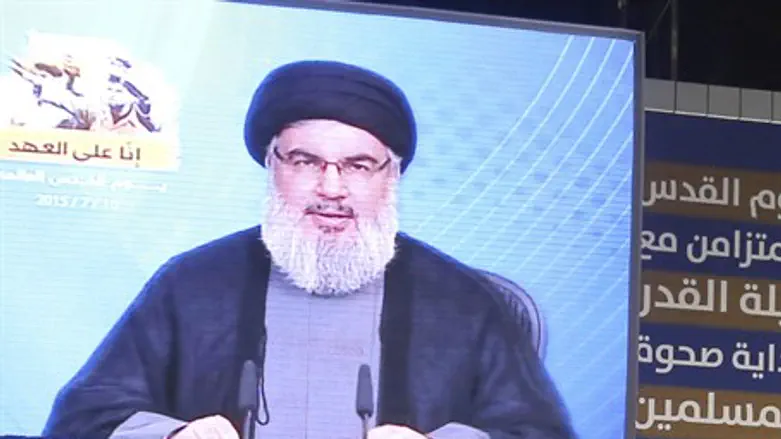 Hassan Nasrallah
Reuters
Hezbollah leader Hassan Nasrallah, in a televised address from his bunker in Lebanon, on Tuesday evening appeared to have threatened to hit Haifa's ammonia tank with a missile.
"Hezbollah has a 'nuclear bomb' - Haifa has 15 tons of ammonia, and any Hezbollah missile attack will turn them into a nuclear bomb that would cause the deaths of tens of thousands," he declared.
"Israel is concerned that in the next confrontation with Hezbollah, we will bomb the gas facilities in Haifa," Nasrallah further claimed, before adding that there are Israeli experts who say that "a missile hitting the ammonia tank would be like a nuclear bomb."
Talk of removing the dangerous ammonia tank in Haifa has been ongoing for several years, as the possibility of a leak of poisonous gas from the plant poses an extreme hazard for tens of thousands of nearby residents.
Then-Environment Minister Amir Peretz declared in 2013 that he will act to urgently remove the huge ammonia plant from the northern port city, and current Environment Minister Avi Gabai promised in June that the tank would be removed within three years.
In a half sarcastic statement after Nasrallah's speech on Tuesday, the city of Haifa "thanked" the Hezbollah leader for bringing up the issue, expressing hopes it would lead to the government taking action to remove the dangerous tank.
"We will continue to fight with all the means at our disposal for the safety and health of residents of the north. We do not think that the country should be run according to Nasrallah's haughty speeches, but we are happy that he is assisting in bringing this most important and worrying issue to the agenda, even if it comes from a frightened man who has for years been hiding in a bunker in Lebanon," the city said.
Minister Gabai responded to Nasrallah's declaration as well, saying, "The ammonia tank is an environmental and security risk. We are working to remove the dangerous tank from Haifa through the establishment of an ammonia production plant in the south, and we will accept proposals from bidders to build the plant at the end of March."