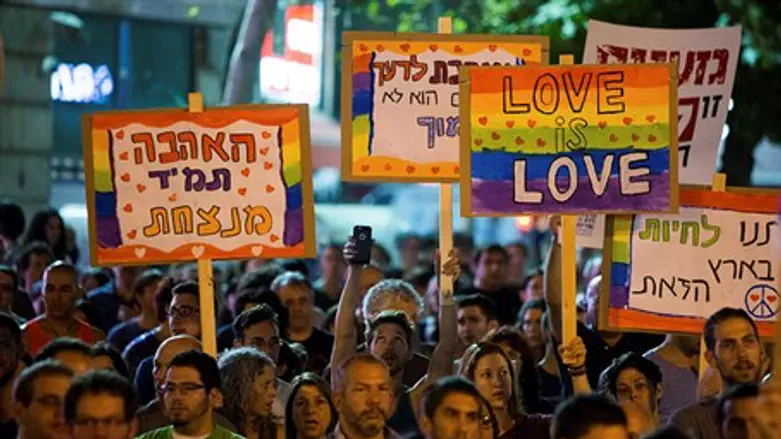 'Tolerance' rally in Zion square after the murder.
Yonatan Sindel / Flash 90
Zion Square, a central and historic square in Jerusalem, is to be renamed Tolerance Square in memory of Shira Banki, a young woman who was murdered by a crazed zealot during a "gay pride parade" in July of 2015.
The decision was reached by in a meeting between Jerusalem Mayor Nir Barkat and representatives of Hatnua Hayerushalmit, an organization that combats "religious extremism" in Jerusalem, and which is supported by the radical leftist New Israel Fund.
Banki's mother will sit on the panel of judges that selects the new design for the square.
After Banki's murder, Hatnua Hayerushalmit began holding permanent "circles of discourse and sharing" at the square. The "circles" were touted as meetings between Jews, Arabs, gay people, haredim and secular Jews.
Shira Katz Winkler, director of Hatnua Hayerushalmit, explained to News1 that the movement "sought to leverage the public reaction following the murder" and that "we invited anyone who believed that things can be better here to join us in the meetings at the square, for a process of mutual change and growth out of the crisis."
Barkat and the representatives of Hatnua Hayerushalmit agreed to hold a competition among architects for redesigning Zion Square, which will be branded as a square of tolerance, meeting and connection. Barkat was reportedly the one who offered that Mika Banki, Shira's mother, serve as his special consultant in the judges' panel that will decide which of the submissions to accept for redesigning the square.
Shira Banki, 16, was murdered by Yishai Shlissel, who stabbed five other people who took part in the parade.
Shlissel served ten years in an Israeli prison for attempted murder, after carrying out a similar attack on the Jerusalem Gay Pride parade in 2005. He was released three weeks before he struck again. 
He was charged with murder and six counts of attempted murder but has yet to stand trial.