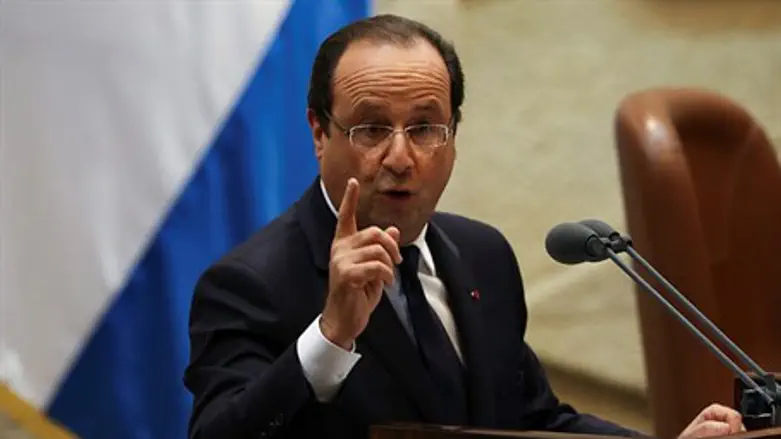 French President Francois Hollande
Flash 90
Algerian officials have vocally expressed their displeasure a the appointment of France's new Minister of Culture Audrey Azoulay. According to reports from both Algerian and Moroccan media outlets the displeasure comes from two sources of angst, that Azoulay is both Moroccan and that she is Jewish.  
During a recent reshuffling of the French government, Azoulay who served as the former cultural adviser to French President, Francois Hollande, has been appointed to become the new French Minister of Culture and Communication.  Azoulay is also the former director of the National Center for Cinematography and has replaced Fleur Pellerin in her current ministerial role.  
Azoulay was born in Morocco and is the daughter of Andre Azoulay who served as an adviser to King Mohamed the Sixth as well as his predecessor King Hassan the second. Audrey's fame lead her recent appointment to gain notice in Algeria, who has shown their dissatisfaction with the amount of Moroccan born officials in Hollande's government.
The Middle East Media Research Institute (MEMRI) reported that African news papers Mondafrique, and Le360, both reported that Algerian officials were upset due to the appointment.  According to MEMRI, Mondafrique, suggested that the source of the displeasure was an Algerian concern about the growing influence of Moroccan figures in the French media and political arena. Mondafrique also suggested that a source of disdain for Algeria is the good relationship that Morocco has with its Jewish population. 
The French-Moroccan website, Le360, also suggested that the Algerian objections to Azoulay's appointment came from "antisemitic overtones," and that additionally stemmed from Algerian hostility towards Morocco and towards what it termed as being its "Moroccan, socialist president" Hollande.