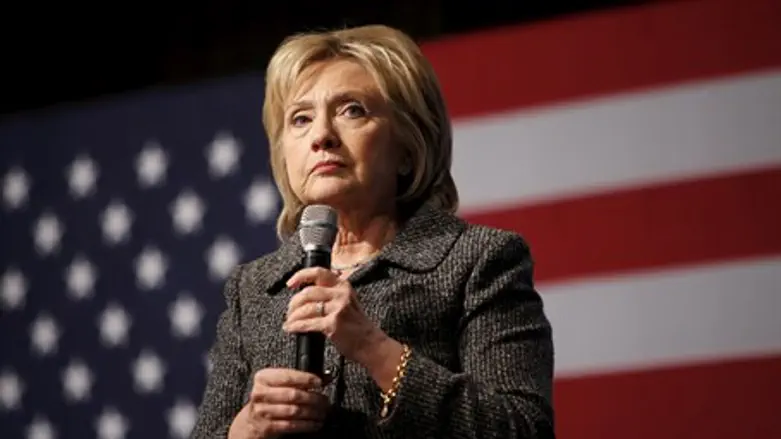 Hillary Clinton
Reuters
Two classified e-mails of former Secretary of State Hillary Clinton which were released by the State Department on Saturday relate to Israel, but their contents cannot be determined.
The two e-mails are part of a batch of about 550 of Clinton's e-mails released by the State Department, of which 84 were marked classified, according to Politico.
The e-mails made public details of the Obama administration's deliberations about global hotspots such as Libya, Syria and the South China Sea, the website said.
They also include e-mails relating to a cross-border attack from Egypt's Sinai Peninsula into Israel in August 2012, and to views that diplomat Dennis Ross shared with Clinton in September 2012 at a time of tension in U.S.-Israel relations.
Another copy of the Ross message was released in heavily-redacted form last month, noted Politico.
Nearly every word in both e-mails was redacted in the publicly available version released by Politico, making it impossible to determine the contents.
In fact, the only contents available to the public are in the Ross exchange. Ross wrote to Clinton, "Jake suggested I send you a few thoughts for your upcoming meetings. I saw some of the folks you will be meeting last week."
Also available from that exchange was Clinton's reply: "Thanks, Dennis. Can you talk this morning?"
The latest release of messages is another part of the ongoing saga of Clinton's illegal use of a private e-mail server for work during her stint as Secretary of State.
Politico noted that the new set of messages incrementally increased the headache for Clinton's presidential campaign, as the total tally of messages now deemed to contain restricted information is more than 1,700 when including the 84 released on Saturday.
None of those messages was marked as classified at the time, but critics say Clinton's use of a private server for her e-mails risked national security.
Other sensitive messages in the latest batch include a discussion of potential terms for Libyan leader Muammar Qaddafi to step down.
E-mails of Clinton released earlier have appeared to show she would be hostile to Israel if elected president.
In 2011 she mulled a plan by a senior aide to stir up Palestinian unrest, and in November she said she would impose peace talks on the Jewish state.