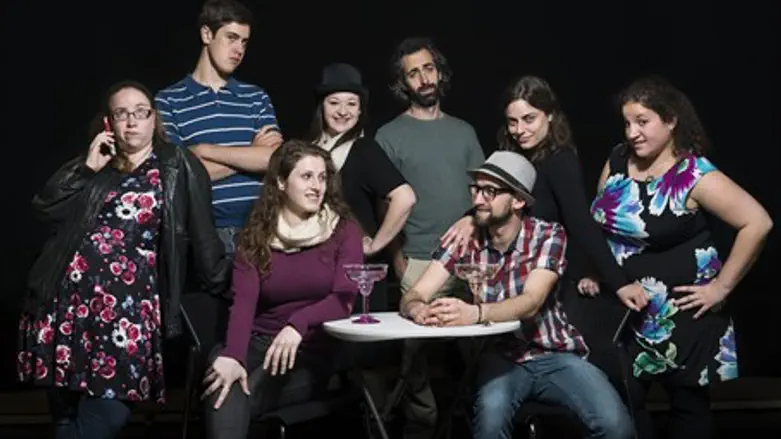 The cast of "First Date" the muical at AACI
Ita Arbit/J-Town Playhouse
Jerusalemites, and others in the vicinity who wish to make the trip, have a very special treat to look forward to for the next three weeks, with a new modern musical that is making its Israeli premiere at the Association of American and Canadians in Israel  (AACI)'s J-Town Playhouse Theater project. 
The Musical, which is called 'First Date', is one of the most modern musicals ever to be performed in English in Israel. The show, originally made it's world debut in Seattle in 2012, one year before it went to Broadway for a successful but short run. The sassy and 'no holds barred' musical comedy deals, quite accurately, with modern dating dilemmas and phenomenon that will speak to audiences of all ages, but especially to those who have dating experience in the post millennial era. 
First Date, which was a collaborative project, with the book written by Austin Winsberg and the music and lyrics written and composed by Alan Zachary and Michael Weiner, tells the story of a blind date. But in this blind date, which the audience gets to see played out on stage in real-time, the audience gets to see the doubts, baggage, and stray thoughts that the couple has about one another portrayed in song by members of the chorus.
Chorus members double as disapproving family members, religious figures, future messed up children, exes, disgruntled waiters, best friends, and imaginary streams of consciousnesses that are all trying to tell the skeptical yet somewhat hopeful couple that they really shouldn't be wasting their time on a date wondering "are they ever gonna find the one."
Even Google, in her omnipresent glory, makes an appearance to let the young couple know that they will likely never have a true shot at their desired romance, since every awkward or embarrassing thing that they ever did is available for all to see via a simple Google search. Google was of course aided by her "minions" such as Twitter, Facebook, Tinder, J-Date, Instagram, and YouTube all of whom receive an anthropomorphism under the power of Google's song, during which she performs a well choreographed tap number, followed by a kick-line in which the couple is reluctantly forced to join in to. The kick-line is of course a shout out to classical Broadway theater which was handled superbly well in this otherwise completely modernistic play.
The Choreography and Direction of the play were superbly handled by newcomer Director, Layla Schwartz, whose previous credits in Israel are limited to only one show, "Next to Normal", which was also a smash hit that was put on by J-Town Playhouse last October. Her partner in crime, Haim Tukachinsky, who musically directed "Next to Normal" as well as the more recent "Sound of Music", produced by Beit Hillel theater company, teamed up with Schwartz for another partnership, and the result was no less phenomenal.
Under the careful guidance of these two incredibly talented artists, the show and its characters took on a sense of realism that at times caused the audience to cringe while simultaneously pulling them in to the story of the characters themselves
Amoyal and Fraenkel in "First Date" at the AACI
Ita Arbit/J-Town Playhouse
The lead actors who played the couple, portrayed endearing characters both of whom the audience could easily relate to.  The rough-around-the-edges Casey, who is a serial dater attracted to "bad-boys", and who the show describes as "a bit artsy, indie, and like all those girls who never paid attention to [nice guys] in school," was portrayed marvelously by Jerusalem theater veteran Miri Fraenkel. While newcomer Shai Amoyal portrayed the character of Aaron who is your typical nice guy and who is described by the show as "someone who likes to cuddle and enjoys long walks in the park".
The rest of the ensemble, and this is an ensemble show make no mistake about that, was portrayed equally brilliantly.
Shlomit Kovalsky plays a disgruntled waitress who wants to be a Broadway star and who has no compunction about belting out a  mid-meal song scolding the patrons of the restaurant for not ordering the right things in life in a voice so beautiful it had some audience members in tears. 
Ziv Stern's portrayal of the Catholic father of Casey is so good you'd think he had experience in the field even though he is barely old enough to be in college in real life. His portrayal of her British bad-boy ex is equally convincing.
Newcomer Rachel Greene plays Google and a host of other characters flawlessly, and she can certainly dance up a storm.
Elinor Kaufman remarkably played a host of characters including Aaron's dead grandmother, Casey's best friend, Casey's therapist, as well as a few others. She has quite a bit of experience in the Jerusalem theater world having both acted and Directed in a number of production in recent years.
Kaufman playing Grandma Ida in "First Date at the AACI
Ita Abit/J-Town Playhouse
Hanan Schoffman blossomed in his debut stage performance portraying Aaron's conscience, his future son, and one of Casey's ex boyfiends.
Aliza Schoffman-Land may have pulled off the most remarkable task of all in terms of taking on numerous roles int he production. In addition to portraying a variety of characters on stage superbly, she also assistant directed and co-stage-managed the show. Her performance, her first in a large role, was so excellently mastered that the audience had no idea that she had never been in a large role on stage before. It was simply a pleasure to watch.
The cast was completed with Shavit Levine's performance of Allison, Aaron's ex fiance who left him at the altar and who has never quite let him go fully, at least not in Aaron's mind. After seeing her performance as the sassy and lustful ex, no one would guess that she is a skilled and devoted teacher by day who helps youth at risk when she is not on stage. She of course is a theater veteran, having performed on numerous occasions in the now defunct BIAS theater in Givat Shmuel.
The value of any show, especially one done in community theater, can be gauged by audience reactions. While this edgy and comical show is not for children, the almost sold out audience that attended the opening night performance, and who did not quite know what to expect, responded with continuous laughter, and smiles from ear to ear. At least they did when they weren't drawn in by the thought provoking messages that the, otherwise feel good and somewhat over-the-top, show evoked. 
When asked how they enjoyed the show, one audience member, Rebecca Fox, who is no stranger to theater responded: "I loved it. I came in feeling somewhat down and depressed as I had a rough day, and this show brought my spirits right back up. I needed this show. It was great." 
Another theater veteran, Howard Metz said, "it was a great night out and was really funny. The singing and acting were great. It was funny, and there was a lot of poignant stuff."
When asked if there was any part that particularly stood out, Metz said "The Jewish stuff was great," referencing one of the early songs in the show when Aaron's family decides to haunt him during the date as he finds out that Casey is not Jewish. The resulting musical number, which includes a rap by Aaron and Casey's unborn child, who is confused about his religious identity and sung by Hanan Schoffman, is certainly a crowd-pleaser and one of the more difficult group number to pull off in a show that is chock full of them. Metz said he "highly recommends it."
Native-born Israelis as well as Anglos enjoyed the evening. Ronen Rojas, a native Sabra, said that he is not much of a musical theater person, but his wife brought him and he really enjoyed himself. 
The show overall was smart, funny, cheesy when it needed to be, poignant and emotional in a good way. The beautiful part of the show, and the part that I personally loved the most, is that the show is refreshingly modern in both its subject material and the style in which it deals with that material. While dating has been a topic of many plays and musicals in one form or another. It is always a special treat to find a show that deals with the wealth of awkward and serious issues that come up for people who are dating in a manner that is not belittling nor is it stodgy. 
This new and refreshing look at the modern dating world, brings hope, not only to those who are looking for love, but to those who are looking for high quality theater that can speak to a modern audience of all ages. Gone are the old hats and "fan favourites". In comes a new work, burgeoning with creativity, pizzazz and edginess. Say good by to older classic broadway romances such "Oklahoma", "The Matchmaker", and "Kiss Me Kate", and say hello to a "First Date" that you won't soon forget. 
"First Date" performs at the AACI - J-Town Playhouse Theater, at 37 General Pierre Koenig st. in Jerusalem's Talpiyot neighborhood on January 16th, 23rd, 24th, 25th, March 2nd and 3rd at 8:00 p.m. There are two Saturday night performances on February 27th and March 5th at 8:30 p.m. as well as a special Valentine's Day performance on February 14th at 7:00 p.m. which will be followed by a talkback with the cast and crew. Tickets are available online by clicking on the box office link at www.aaci.org.il for the reasonable price of 80 NIS, with a variety of discounts for members of the organization, students, soldiers bnot Sheirut, and teens. The show contains coarse language ad mature subject material and is not appropriate for children under the age of 15.