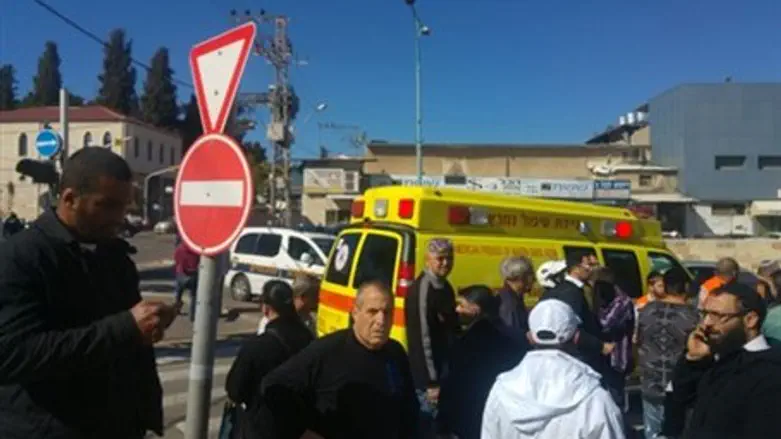 Terror attack in Ramle
MDA spokesperson
An indictment was filed Thursday against the two 14-year-old Arab girls who stabbed and lightly wounded a security guard in Ramle in an attack exactly one week ago. 
The Central District Prosecutor's Office charged the pair with attempted murder, conspiracy to commit a crime, and possession of a knife.
According to the indictment, about a month before the Ramle stabbing the two decided to become "martyrs" and be killed as part of a "religious war" by carrying out a murderous attack against Jews. 
Directly inspired by the deadly attack last Wednesday at Jerusalem's Damascus Gate - in which three heavily-armed Arab terrorists killed a female Border Police officer - the two chose to meet the next day equipped with kitchen knives. 
On the day of the attack, one of the young terrorists asked her friend if she was interested in carrying out the stabbing as planned. The friend suggested conducting the attack after school, but was later convinced to carry out the attack in the morning instead of going to school. 
Each girl took a kitchen knife and stashed it in her school bag, before traveling to the mall inside Ramle's central bus station. They staked out the place three times, but noticed no civilians or soldiers present. 
As there were no soldiers, the pair decided to stab a security guard at the entrance to the mall. They approached the inspection stand and when the guard asked to check their bags they drew out their knives and began to stab him with the intent of killing him. 
According to the indictment, the pair yelled "Allah" (God) numerous times as well as "Death to you."
During the struggle, the security guard fell to the floor. As he attempted to defend himself, one of the terrorists continued to stab him until the pair were neutralized by IDF soldier and additional guard.