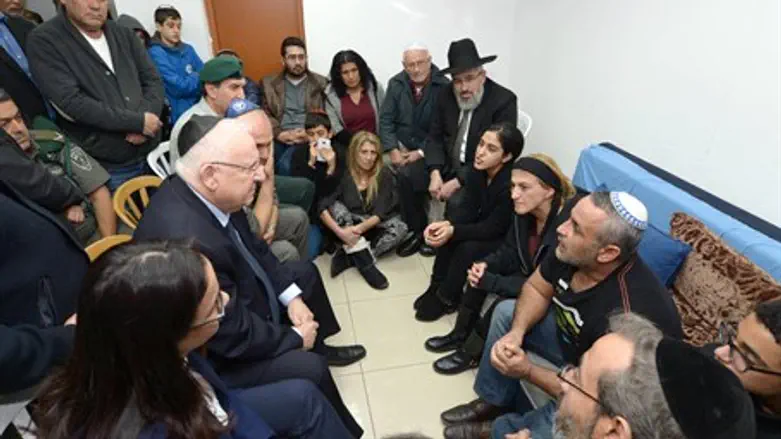 Rivlin at the Cohen's home
Photo: Mark Neiman, respectfully
President Reuven Rivlin paid a condolence visit Monday to the family of Hadar Cohen, the Border Police officer killed last Wednesday during an attack at Jerusalem's Damascus Gate.
The president embraced Cohen's family – parents Ofer and Sigalit, and brothers Mor and Yarin – and spoke of her heroism and courage. "When you saluted your daughter at her funeral, the whole country soluted with you," said Rivlin to Cohen's father.
"Upon your walls, O Jerusalem, I have set watchmen," said the President quoting Yeshayahu (Isaiah) 62:6. "Hadar is a heroine of Israel, and she has saved so many people. If she were alive I would shake her hand for her bravery."
Hadar's father explained to the president that "right here, where we are sitting Shiva, two months ago, we celebrated her recruitment." He continued to tell how he had spoken on the phone with Hadar the evening before the attack, and asked her to stay safe and alert.
Rivlin praised Cohen's alertness saying, "She knew exactly what she was doing. Her action prevented a major disaster."
Cohen's mother explained to Rivlin that her daughter was to celebrate her nineteenth birthday next month, "Hadar knew at an early age she wanted to be a combat soldier, and she achieved her dream. I pray to be the last bereaved mother and family to know this kind of pain."
"Combat fighter are not hesitant. They know what role and their responsibilities. Hadar and the fighter beside her physically blocked the attackers," said Rivlin. "Our hearts are with you, we are proud of our boys and girls who are on duty without hesitation."
The president was accompanied by Border Police Commander Major General Amos Yaakov, who emphasized that Hadar's family had become an integral part of the Border Police.