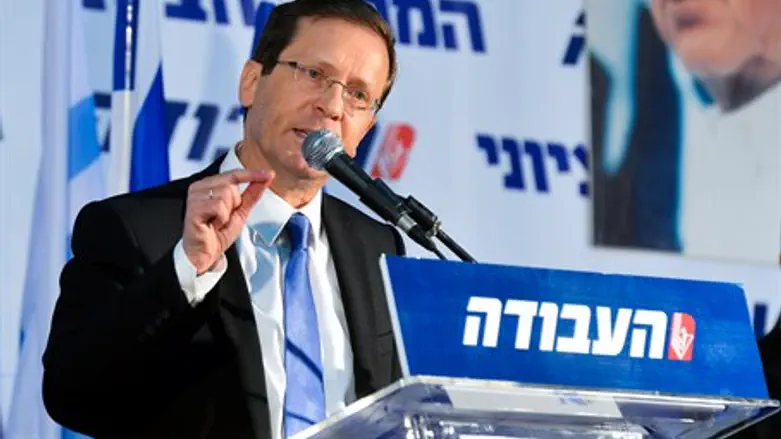 Yitzhak Herzog
Flash 90
The Labor party's convention on Sunday evening officially approved its chairman Yitzhak Herzog's "separation" peace plan.
Herzog's plan, which he recently discussed with Secretary of State John Kerry, would form a regional security committee consisting of Egypt, Jordan and Israel together with other Arab states in an effort to eventually establish a Palestinian state.
This committee would coordinate a joint fight against radical Islamic terror and likewise advance "confidence building measures" in the Middle East.
With the approval of the plan at the convention, it will be part of the Labor party's security-political platform.
Prior to the approval, Herzog gave a fiery speech in which he leveled harsh accusations about Prime Minister Binyamin Netanyahu and members of his government, particularly the Jewish Home party.
"Only a separation between us and [the Palestinians] will maintain a Jewish majority in Israel," insisted Herzog. "Only a separation between us and them will prevent the infiltration of terrorists and strengthen security. Only a separation between us and them will complete the security fence around the settlement blocs. Only a separation between us and them will disconnect the Palestinian villages from Jerusalem and maintain a Jewish Jerusalem. Only a separation between us and them will maintain security. We learned the lessons of the Gaza disengagement which the Likud did. The IDF will remain in the entire area and not move."
Herzog then lambasted Netanyahu and his government, saying, "Netanyahu does not want to separate from the Palestinians. He is afraid of the extreme messianics on the right. The ones who want to drown us in a sea of ​​an Arab-Jewish state. I heard Uri Ariel this morning talking again about the annexation of hundreds of thousands of Palestinians to Israel."
"You want to annex more Palestinians into Israel? Are you mad? So there will be more attacks? Bennett, the prophet of the messianics, uses laundered words: He says 'the two-state solution is dead'. And I reply, on your behalf: 'Listen to me Bennett: The two-state solution is not dead. You and your messianics would love for the two-state solution to die,'" he continued.
"The two-state idea is not dead," Herzog said, "because without it the Jewish state will cease being a Jewish state. A separate state for Palestinians is Israel's only chance to remain a democratic Jewish state with defensible borders. This is a Jewish-Israeli interest. But in order to realize this vision, we must be realistic. We must first dismantle the hatred. We need to eliminate the extremists on both sides because they both oppose the two-state vision and do everything to kill it."
Herzog's recent statements that the "two-state solution" is not feasible at the current time have caused friction between him and his party members, particularly Shelly Yechimovich who has announced she would challenge him for the party leadership.
At Sunday evening's Central Committee meeting, Labor Secretary-General MK Yechiel Bar said that Herzog's plan is "responsible, realistic and courageous."
"I thank Herzog for his leadership on the political issue, and call on all of us to unite around the plan approved today. As of today everyone has one outline. Our strength is in our unity," proclaimed bar.