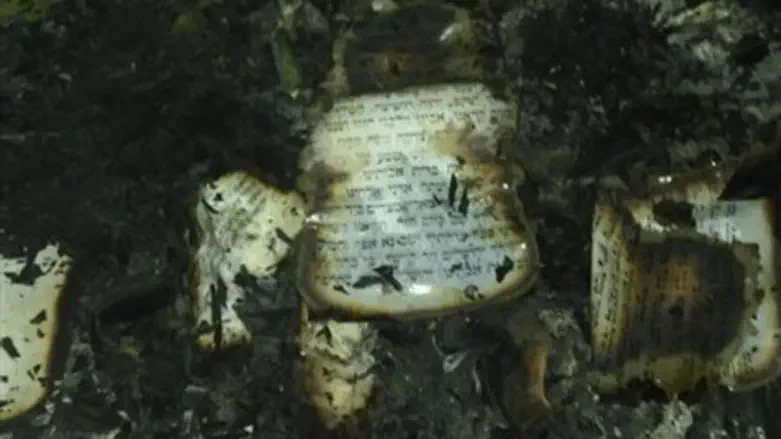 Burned books at Givat Sorek synagogue
Karmei Tzur security force
Arab arsonists set fire to prayer books in a synagogue in the town of Givat Sorek which is located in Gush Etzion near Karmei Tzur.
The town is located on a strategic hill that overlooks the location where the three teenage boys, Eyal Yifrah, Gilad Sha'ar, Naftali Frenkel were kidnapped in 2014. The synagogue is used as a prayer house, a place where backpackers go to, and a center for youth group programs for local area youth. 
Residents said that this is not the first time that the place has been attacked. "It is hard for us to come to terms with the fact that in the heart of the country an act like this occurs which reminds us of some of the darkest periods of our history. It is important to remember that less than 100 meters from the synagogue are people's houses. This is a dangerous beginning to what can easily become a much bigger tragedy. We need to bring these attacks to an end." 
"These pictures are shocking and send shivers throughout the body. I am certain that holocaust survivors who survived kristallnacht and founded Gush Etzion, never dreamed that they would see such pictures of burned books here in Israel under Israeli authority,"   said David Perl, Head of the Gush Etzion Regional Council on Saturday night. "The government of Israel must get the wild Arab violence, that claims both the lives and sanctity of Israelis, under control.  We expect that the international community will condemn this hateful, shocking and criminal act."