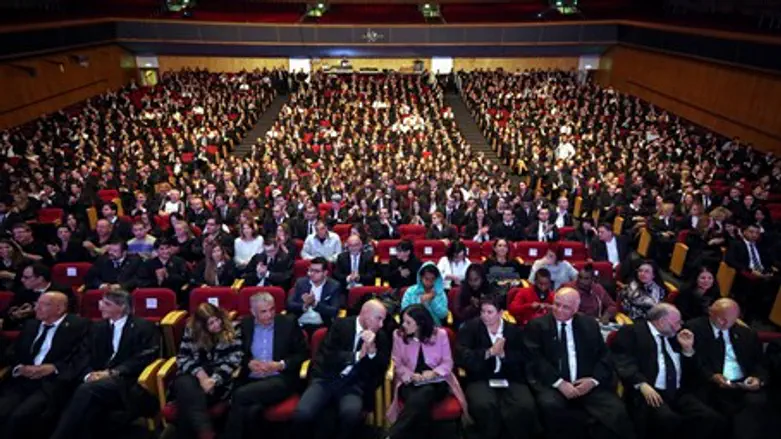 Newly graduated lawyers seen at their graduation ceremony at the Jerusalem congress center
Yossi Zamir/Flash 90
Currently one out of every 145 people in Israel is a lawyer. This ratio, which is the highest in the world per capita, has convinced some that the entry level positions into the legal world should be made more difficult to come by. However, there are some dissenting opinions that reject the idea of exasperating an already difficult process. 
Dean of the Academic Center of Law and Science, Professor Aviad HaCohen, for one, is vehemently opposed to the proposed increase of the length of internships for graduated lawyers. The proposal is to extend the current period of internship from one year to a year-and-a-half for students who have graduated from law school.  
According to HaCohen, the extension could have been something that was positive if there was proper supervision in terms of what the internship demanded on the practical level. "However when we have the case as it is today, that the internship in most locations is wasted on having the interns make coffee for their bosses and photocopy documents, it is a sad state. The elongating of this period will simply extend the injustice and accentuate it."
Professor HaCohen gave additional reasons to his rejection of the proposal. "Many of the interns arrive on the job at advanced ages when they have families. Many of them have completed not only their legal studies, but also served in the IDF for an extended period of time. They have children and wives to look after and support, and they cannot do that receiving minimum wage for their internship position, they are being taken advantage of. The proposed extension will only make matters worse."
In addition to the issues caused by the proposed extension, there is also the difficulty of getting accepted to an internship position.
"The spots are limited and the extension will limit their availability even further. Competition in this area will only bring about problems that we do not want to deal with. It will make it very difficult for students to find internship positions and thereby harm their chances of finding a job in the field." 
In the year 2010, Yedioth Aharonot reported that Israel had the highest percentage of lawyers per capita in the world with one out of every 170 people in the country (including pensioners, children and people who are not working) working as a lawyer. The staggering number gets worse as the majority of the jobs are highly localized to the central coastal region of the country, with one out of every 33 residents in Tel Aviv working as a lawyer. 
In 2015 that number rose to one lawyer for every 145 residents in Israel. According to a Globes report the total number of lawyers working in Israel as of 2015 is 57,820, and more than 3,700 new lawyers were brought into the Israeli Bar Association in 2014.