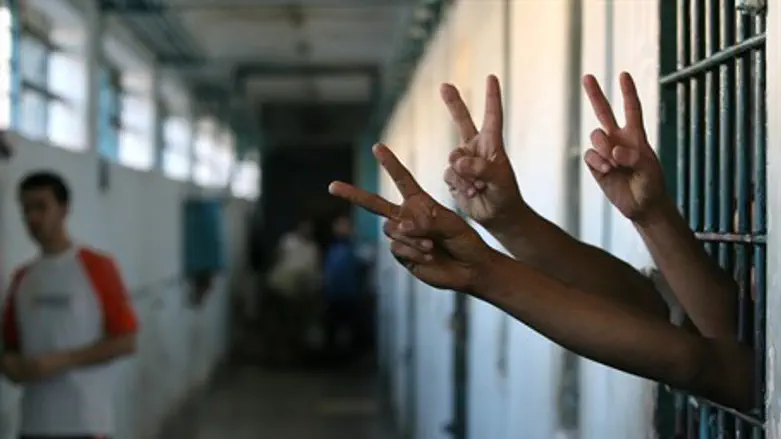 Terrorist prisoners (illustration)
Flash 90
A top UN official said on Tuesday he was "alarmed" by the condition of a Palestinian Arab journalist on hunger strike in Israel over his detention without trial, AFP reports.
Robert Piper, United Nations coordinator for humanitarian assistance and development aid in the "occupied Palestinian territories", raised concern for the fate of 33-year-old Mohammed al-Qiq, who the International Committee of the Red Cross say is in critical condition after 70 days refusing food.
"I am alarmed by the rapidly deteriorating health of Palestinian administrative detainee, Mohammed al-Qiq, who is on hunger strike in protest against the arbitrary nature of his detention and ill-treatment," said a statement from Piper quoted by AFP.
Qiq, 33, a correspondent for Saudi Arabia's Almajd television, was arrested on November 21 at his home in the Palestinian Authority  city of Ramallah in Samaria.
The Israel Security Agency (Shin Bet) said he was arrested for "terror activity" as a member of the Hamas terror group, which controls Gaza.
Qiq denies the charges and has been refusing food since November 25 in protest at the "torture and ill-treatment that he was subjected to during interrogation".
Under Israel's controversial administrative detention law, the state can hold suspects for renewable six-month periods without trial.
The Israeli Supreme Court recently ruled that Qiq would remain in Israeli jail but his condition would be monitored on a daily basis.
It should be noted that jailed terrorists have often used hunger strikes as a pressure tactic aimed at forcing Israel to release them out of fear for their lives. Israel has several times in the past caved to the pressure and released some hunger strikers.
Some 1,550 Palestinian Arabs imprisoned in Israel ended a hunger strike in May 2012, in exchange for a package of measures which would allow visits from relatives in Gaza and the transfer of detainees out of solitary confinement.
The most recent famous case of a terrorist who went on a hunger strike and was ultimately freed was that of Mohammed Allan, who was freed by Israel at the beginning of November.