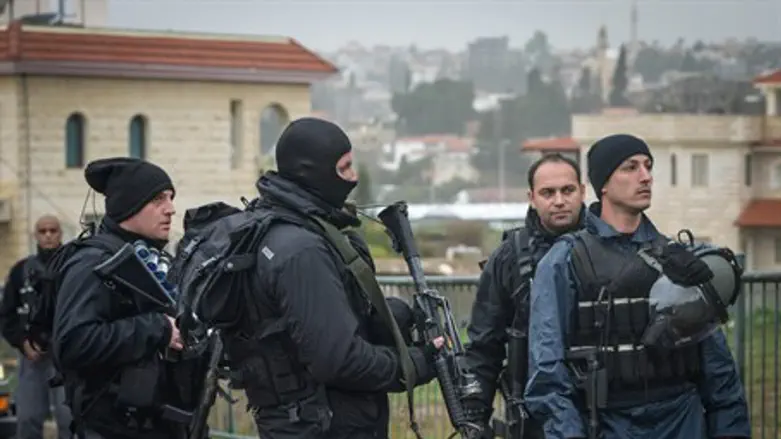 Security forces in Arara ahead of Nashat Milhem's elimination
Basel Awidat/Flash 90
Ahead of the indictments to be submitted on Wednesday against three accomplices of Nashat Milhem, the Arab Israeli terrorist who gunned down three people in Tel Aviv on January 1, details of their investigation reveal Milhem planned more attacks.
Milhem, who was found and shot dead in a gun battle in his hometown of Arara in the north where he hid out for a week after the attack helped by other Arab citizens in the town, told his accomplices about the Tel Aviv shooting.
"I murdered two Jews and the taxi driver because he threatened me that he would inform the police," he said according to their revelations under investigation, reported by Yedioth Aharonoth Wednesday.
Shimon Ruimi and Alon Bakal were murdered in Milhem's attack on a pub on Tel Aviv's busy Dizengoff Street, and an hour later the body of Druze taxi driver Amin Shaban was found in the north of the city.
Milhem told one of the three accomplices that he planned another attack, although details of what the attack was to entail remain unclear. Police previously suspected a relative helped Milhem plan the Tel Aviv attack, although the indictment states he conducted the attack alone.
The three accomplices are Mohammed Milhem and Amin Milhem, relatives of the terrorist, as well as a third Arab Israeli who met Milhem at the grocery store in Arara where they worked together.
After the lethal attack, Milhem fled to Arara the same day. There he hid in the storeroom of one of the accomplices, before transferring the next day to another house where he eventually was trapped by security forces and eliminated.
Allegedly he threatened the accomplice with the storeroom that he would harm his wife and entire family if he told anyone they had met.
Another accomplice supplied him with food and a cell phone, while the third accomplice brought him two cartons of cigarettes. One of the accomplices even brought him drugs.
Police previously revealed that there may have been as many as 20 accomplices who either actively gave aid to Milhem, or else recognized him walking around armed in Arara and chose not to report him. Residents of the town revealed that "many people knew" he was hiding out there, apparently aided by his family, and kept quiet.