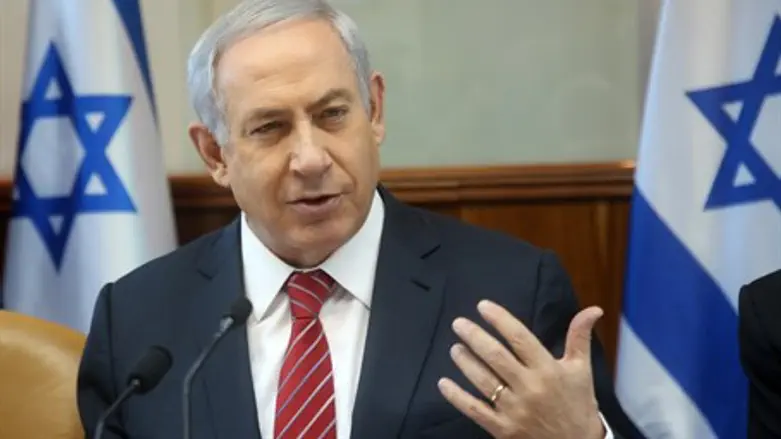 Binyamin Netanyahu
Marc Israel Sellem/Flash 90
Prime Minister Binyamin Netanyahu clarified at the cabinet meeting on Sunday that Israel will permit the 200 Jews evicted from two houses in Hevron on Friday to return once they receive the proper permits. 
"The government supports the settlements at any time, especially in days like these, when they are under terrorist assault and are taking a courageous and determined stand in the face of terrorist attacks," the Prime Minister said, adding that "at the same time, we are a lawful country and must respect the rule of the law."
"The moment that the purchase process is authorized, we will allow the population of the two houses in Hebron," Netanyahu stressed. 
"We will begin the examination today and we will do it quickly. If it doesn't come to an end within a week, I will make sure that a status report will be submitted to the cabinet," noted Netanyahu.
The Prime Minister also addressed relations between Israel and the United States, thanking US President Barack Obama "for deciding to attend an event marking International Holocaust Remembrance Day at the Israeli Embassy." 
"This sort of thing hasn't happened in many years, and it is more proof that the relations between Israel and the US, despite the disagreements, are solid and strong."
"We've heard over the past years talk of the collapse of the relations. What happened are talks of collapse, but it seems that the relations are getting stronger – for example the memorandum of understanding that we will likely reach in the upcoming months regarding defense aid for the next 10 years," Netanyahu said.
Netanyahu also made note of his trip to the World Economic Forum in Davos, in which me met with several world leaders, and announced that both Argentina and Ethiopia seek to strengthen relations with the Jewish state.