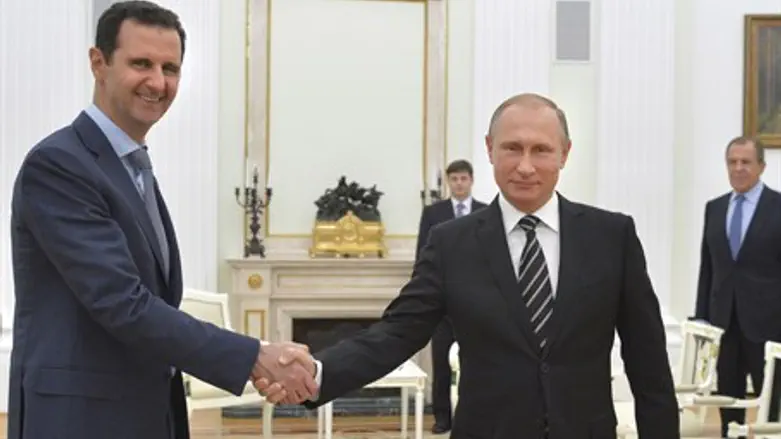 Assad and Putin
Reuters
A spokesman for the Kremlin on Friday denied reports that Russian President Vladimir Putin sent a senior intelligence official to Damascus late last year to ask Syrian President Bashar Al-Assad to step down, The Guardian reports.
A report in the Financial Times earlier in the day quoted Western intelligence sources detailing the apparent mission of Colonel-General Igor Sergun to Damascus.
According to that report, Sergun delivered a message from Putin that it was time for Assad to stand down, but was firmly rebuffed by the Syrian leader.
"No, that is not the case," said Dmitry Peskov, Putin's spokesman, when asked about the report in the Financial Times.
Russia has long been a supporter of Assad, having several times vetoed resolutions related to Syria at the UN Security Council, raising the ire of the West.
In addition, Moscow entered the Syrian conflict in late September, providing air support for Assad's army. While Russia claimed its airstrikes were targeting only the jihadist Islamic State (ISIS) group, Western officials said the airstrikes also targeted Western-backed "moderate" rebel groups which Assad views as "terrorists".
For a number of years the main sticking point over Syria between Russia and the west has been Moscow's insistence that Assad is the legitimate ruler of the country and must play a part in any settlement, while the west has seen Assad as part of the problem rather than the solution.
However, while Russia has not publicly ditched Assad, there have been some signals for a number of months that Moscow could be softening its position on the fate of the Syrian leader, if the Kremlin felt he could be replaced with someone acceptable to Moscow's interests, noted TheGuardian.
In November, Alexander Aksenyonok, a former Soviet ambassador to Syria, who is still involved in political negotiations in the country, told The Guardian that it was unlikely Assad would be able to stay on.
"If Assad really thinks he can continue the fight against terror without starting the political process, he's making a big mistake," he said. "The processes should happen in parallel. Of course, Syria will never be the same as it was, and the leadership will never be the same as it was."
In addition, Putin indicated last year he would be ready to "push" his Syrian counterpart towards introducing reforms in the war-torn country, though he vowed he would continue to support his ally.
The Guardian also noted that little is known about Sergun's apparent mission to Damascus, or indeed about Sergun's biography at all. Head of GRU, the highly secretive military intelligence agency, he died on January 3, just weeks after the mission to Assad.
(Arutz Sheva's North American desk is keeping you updated until the start of Shabbat in New York. The time posted automatically on all Arutz Sheva articles, however, is Israeli time.)