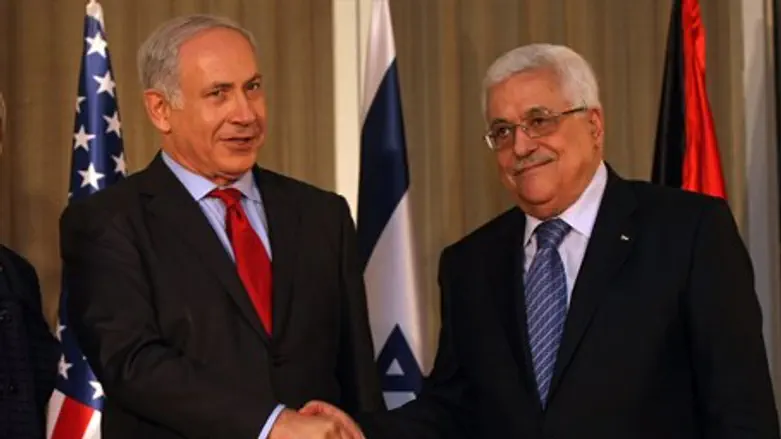 Binyamin Netanyahu, Mahmoud Abbas
Flash 90
Palestinian Authority (PA) Chairman Mahmoud Abbas had his claims Thursday that Prime Minister Binyamin Netanyahu snubbed his efforts for peace talks further denied, as the American administration clarified it is not aware of Abbas's supposed initiative.
State Department deputy spokesperson Mark Toner made clear that the US is not familiar with Abbas's alleged attempts two months ago to meet with Netanyahu.
"I'm not aware that there were requests on the matter," said Toner. "We are open to any attempt by Abbas to meet with Israeli representatives unconditionally."
Abbas had told Israeli reporters that "there were contacts for a meeting with Netanyahu two months ago, but his people evaded meetings in advance meant to agree on the meeting."
Netanyahu's staff responded to the claims, saying, "he (Abbas) has already claimed this in the past, and we denied it. ...It isn't correct. This is an attempt by Abbas to evade his responsibility for the absence of negotiations. Even today in Davos Netanyahu called on Abbas to return to negotiations without preconditions."
The PA head also said, "I don't incite, in contrast to the claims of the Israeli ministers. I call on them to show me where exactly I incited."
Such examples in fact abound, as just last month Abbas called the murder of innocent Israelis a "peaceful uprising." His Fatah faction and PA have constantly aired pro-terror incitement in various media forms.
In early September he is viewed as having kicked off the current terror wave, when he blessed every drop of blood shed in Jerusalem "for Allah" and called to stop "filthy" Jews from visiting the Temple Mount. Then in early October as the terror wave began gaining steam, Abbas's Palestine Liberation Organization (PLO) said that murdering Jews is a "national duty."