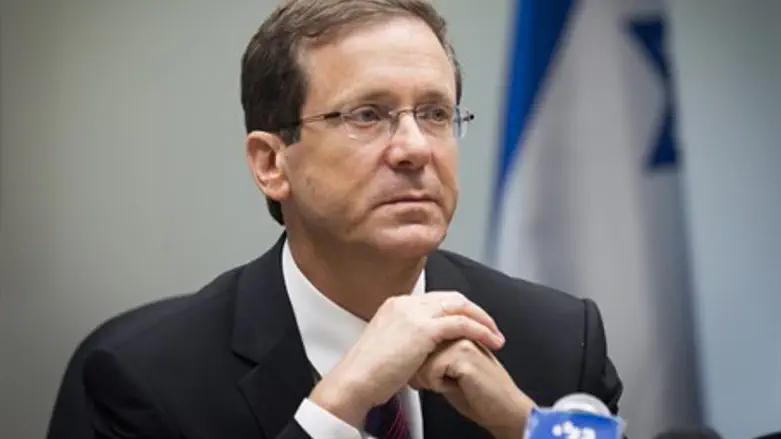 Yitzhak Herzog
Miriam Alster/Flash 90
Opposition leader MK Yitzhak Herzog admitted on Wednesday that the "two-state solution" is not feasible at this time.
"I look at the reality, and the reality as I read it is a complex one. I cannot see in the current reality how the two-state solution could be implemented," the Zionist Union chairman told Army Radio in an interview.
"I want to aspire to it, I want to negotiate it, and I am committed to it, but I do not see the ability to do that now," added Herzog, who continued, "In the absence of the ability to do that right now, there is a need to implement security measures that match the reality on the ground, and these measures require separation from the Palestinians."
Herzog called to "complete the fence around the settlement blocs. Secondly, in Jerusalem we must deal with the reality of 38 villages that were never part of the city, and examine how to physically separate from them. In addition, I am speaking of a conference on regional security with our partners in the region, and about confidence-building measures with the Palestinians, which Netanyahu has for months refused to implement."
The comments, which appear to be a turn to the right by Herzog, follow a recent admission by officials in the Obama administration that reaching the "two-state solution" before Obama's term expires is unlikely.
Despite those comments from Washington, however, Secretary of State John Kerry has several times warned that Israel is headed towards a "one-state solution" and that the Palestinian Authority (PA) could collapse.
Kerry recently told the New Yorker magazine that he believes that Israel is headed toward becoming a "unitary state that is an impossible entity to manage" and warned that such a reality would lead to Israel becoming like a "big fortress" and strengthen groups like Hezbollah.
In his interview on Wednesday, Herzog replied to criticism of the government by Education Minister Naftali Bennett, saying that the Jewish Home chairman was right and, as such, he must resign immediately.
"The issues raised by Bennett are very important. They are worth arguing about," said Herzog.
"It is time to refresh our thinking in terms of defense," he added. "Bennett should have done something that completes what he said and quit. Plain and simple - he had to resign from the government yesterday."
Herzog also attacked Prime Minister Binyamin Netanyahu and said, "Netanyahu is weak. He cannot move anywhere, and he will not dismiss [Bennett] and not do anything. I see the report about [Hamas] tunnels in the Gaza belt. I hear the statement by Hamas that it will resume attacks. Shouldn't questions be asked?"