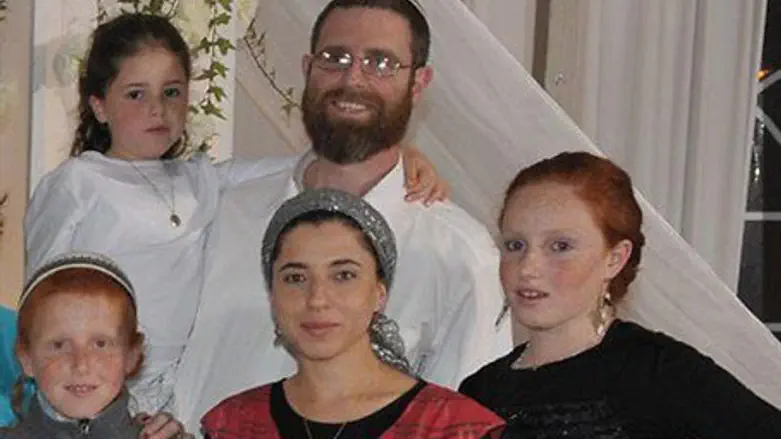 The Meir family
Courtesy of the family
Ranana Meir, the 17-year-old daughter of Dafna Meir who was brutally stabbed to death by an Arab terrorist at the entrance to her home in Otniel in southern Judea on Sunday night, recalled the horrors of seeing her mother murdered before her eyes.
Meir, 39, worked as a nurse at Soroka Hospital in Be'er Sheva, and was a mother to six including two adopted children. She fought with the Arab terrorist, and prevented him from murdering three of her children who were inside at the time, including Ranana. Meir was buried Monday amid tearful eulogies, and the 16-year-old terrorist was apprehended Tuesday.
Ranana relived the attack in an interview with Channel 2 on Wednesday, saying, "I was lying in my parents' bedroom. I was in the middle of a phone call with one earphone. At first I thought to myself that she (Dafna) was probably frightened by a centipede or a cockroach, two things which easily could have caused mom to shout."
"But then the shouts grew louder and didn't stop. I understood that something was happening there. When I went upstairs, mom was already lying on the ground. She was still fighting with the terrorist."
The bereaved teen recalls seeing the Arab terrorist try to pull the knife out of her mother so as to continue murdering and stab her as well.
"I saw him try to pull out the knife. I shouted to my two brothers not to go up to the living room. I understood that he wanted to continue. It took a few seconds until he realized that he couldn't remove the knife, and he ran," she recounted.
"Mom fought with him, she didn't let him remove the knife, she didn't let him hurt us. I screamed. He was shocked and fled. I went to mom, to the knife that was sticking out of her. I came to remove it but then I remembered that in the Magen David Adom course they told us not to remove foreign objects."
At that point Ranana called Magen David Adom and had an ambulance dispatched, saying, "I was screaming the whole time from the panic. Mom was still breathing, I just asked her the whole time to keep breathing, not to stop, but I already knew. It was clear to me that it was over. She tried to keep breathing. I felt that she heard me even though she already wasn't responding."
"I hope that she didn't hear my screams," the 17-year-old said.
Her father, Natan, was with one of his sons at a doctor's visit in Gush Etzion at the time, and Ranana called him to inform him of the tragedy, at which point he raced home.
"For forty minutes I made my way to Otniel," he later recalled. "I stopped to pick up my son who studies at Mekor Chaim Yeshiva. The whole time I tried to contact friends from the town, from the (response) team, who I knew were supposed to be there in case of a (security) incident."
Natan said, "they all told me that they're treating her. Forty minutes pass, and I understand that if they're treating her for 40 minutes, the situation is very grave. I turn on the radio and hear 'a woman was murdered in an attack in Otniel,' and then I understood it was over."