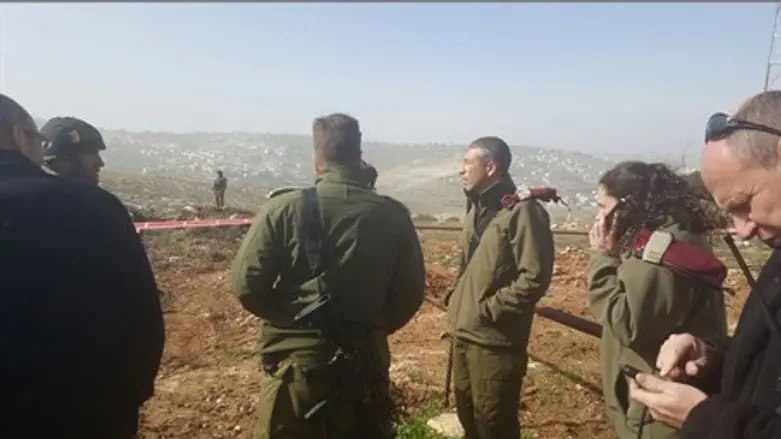 IDF in Tekoa following attack
Courtesy of the photographer
Hanna Gimpel, manager of the used clothing store in Judea's Tekoa where Michal Froman, a pregnant woman, was stabbed and moderately wounded on Monday, spoke to Arutz Sheva about the shocking Arab terrorist attack.
"It was something traumatic, we were three women in the store, two of them pregnant, one with a little baby," said Gimpel. "It's a store that a lot of women come to."
"Suddenly a young guy comes in and starts speaking in Arabic, I immediately understood he shouldn't be there (so) I turned to him and asked him who he is with, because Arabs can't be (in the town) alone," she continued.
"He got kind of confused and went backwards a few steps. And then he came forward again, (and) I told him to leave while asking that they contact the military security coordinator, we didn't stop and he pulled a knife, we all ran to the sides and he stabbed Michal in the back."
Gimpel said she feels certain a great tragedy was narrowly avoided in the incident, saying, "in another moment many more women would have come here, he could have closed the door and it could have ended differently."
"It was a real miracle, he ran outside quickly. We will hold a meal of thanksgiving as soon as Michal returns home - pray for the recovery of Michal bat Ester."
According to the store manager, the day after the attack the residents of the town were on high alert.
"It influences us all, we lock doors, and are more vigilant," she said, noting on Tuesday, "we didn't open the store."
"The unbearable ease with which he succeeded in reaching us, to a vulnerable place for women like our store - we need to recover."