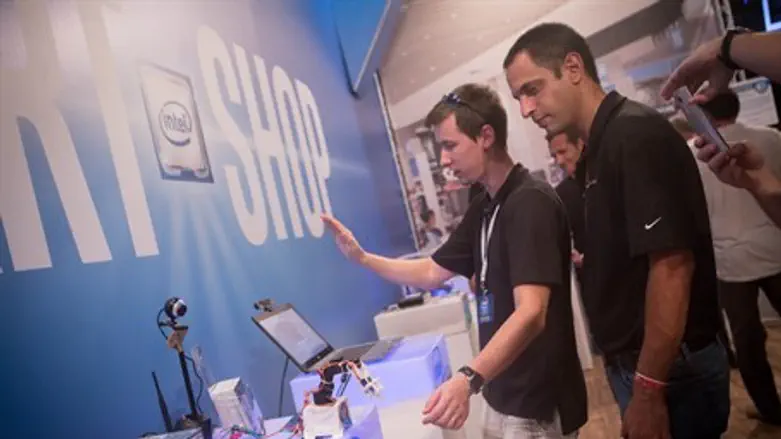 Startups at DLD Tel Aviv Digital Conference (file)
Miriam Alster/Flash 90
According to a new report by Israel-based IVC Research Center and law firm Meitar Liquornik Geva Leshem Tal, Israeli startups were sold for a total of $9.02 billion in 2015. This rate shows an increase by more than 16 percent from 2014.
This exit sum puts 2015 as the third-highest exit sum in the last decade, with 2006 ranking as the highest and the 2012 exit sum coming in at a close second.
The report which was presented during an event in Tel Aviv last week, 96 Israeli high-tech and startup companies were sold in 2015 and an additional eight companies went public. These figures are in line with the 10-year average.
The overall valuation of Israeli startups has significantly increased as can be seen by the rate of the average exit deal which reached $87 million in 2015 an increase of 40 percent from the 10-year average of $62 million.
The top exit of an company was the $1.25 billion acquisition of Fundtech by D+H, an international FinTech company. This acquisition alone accounted for almost 14 percent of the total exit proceeds in 2015.
The IVC report shows that Venture Capital (VC) backed exit deals had a record breaking year in 2015, as some 52 VC backed deals raked in a total of $4.98 billion. This total is the highest amount brought in by VC backed businesses in the last decade. The total surpassed even 2013's which ranked in at $4.04 billion and included the sale of Waze for  $1.2 billion to Google.
Koby Simana the CEO of IVC told Israel Innovation website, No Camels that, "the increase in the size of the average VC-backed exit has a lot to do with the patience and perseverance with which VC funds have been managing their Israeli portfolios lately. The VCs, many of which have been successfully raising new funds in the past two years, have enough breathing room to patiently wait for portfolio companies to realize their full potential."