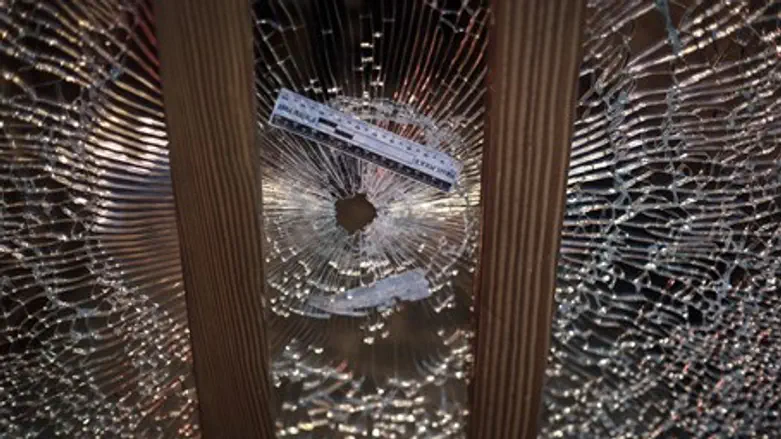 Bullet hole from Nashat Milhem's Tel Aviv shooting
Tomer Neuberg/Flash 90
Two weeks ago Hadar Klein was sitting at Hasimta bar on busy Dizengoff Street in Tel Aviv, celebrating a friend's birthday and excited over her imminent plans to open her own pilates studio - then suddenly, Arab Israeli terrorist Nashat Milhem filled the air with gunshots.
Klein told Yedioth Aharonoth on Friday that despite being shot in the leg by the terrorist during the lethal attack, she still plans to open the studio in Ramat Hahayal in northern Tel Aviv: "it will take several days, maybe weeks, but in the end it will happen."
The 25-year-old was sitting at the pub celebrating her friend Ariel's birthday, but within moments that seemed to last an eternity, everything changed and she saw Shimon Ruimi murdered before her eyes.
"They called to him and he didn't respond. I looked for blood, I thought maybe the blood on me was his blood and I didn't see anything," she recalled.
Aside from Ruimi, Alon Bakal was also murdered at the pub; an hour later the body of taxi driver Amin Shaban was found in northern Tel Aviv, after Milhem murdered him as well. Police suspect the terrorist had help from many Arab citizens living in his hometown of Arara in the north.
Reliving the horrific moments of the attack, Klein said, "my friend Nir pushed me inside and apparently that's what saved me, because my instinct was to turn and see what happened. The bullets hit me and I felt pain in my leg. I lifted my dress and saw a hole in my leg and lots of blood. I tried to move inside because we feared there were more terrorists. We were afraid that they were going to gun us all down."
"At some place I already made peace with the fact I was going to die. I accepted it. I remember thinking that I will close my eyes and it will all end."
"I received my life anew"
Klein recalls that "many thoughts flashed through my head," including the fate of her leg upon which her career is based, her friends, and the other people in the bar.
"I understood that I truly received my life anew," she said.
After being evacuated to the hospital, doctors clarified the extent of her wounds which prevented her from even lifting her leg. According to the medical staff, the bullet miraculously missed the main artery - if it had hit, she might have died.
"I asked everyone I met about my foot because I need it and it's important to me that it be okay," she said. "It was really hard for me to lie in the room and not be able to lift my leg. Even now I don't feel it, I had nerves hit (by the bullet), and it's hard when your work is to feel your body and know what it needs. It's like something inside me disappeared."
Klein noted how happy it makes her to teach pilates "and see satisfied students. The amount of love I received is incredible. While it hurts, from the love for the profession you find the strength to stand and give the class properly. Sometimes I need a bit more rest and there's a chair in the room if I feel that I need to sit, but I live for this. I like seeing the girls go out satisfied after the class."
Regarding the opening of her own studio, which was all prepared and ready before the shooting, she remains determined that in the coming days and weeks she will realize her dreams and launch the studio, not letting the attack stop her.